Shipping scenario – Price Based Shipping WooCommerce #
In this tutorial, I will show you how to set up price based shipping with the use of a plugin. WooCommerce is a great tool for selling all kind of stuff online and gets improved with every version. However, WooCommerce still lacks a built-in solution for table rates.
Why would you need price based shipping #
Customers love free shipping. Unfortunately, there's rarely an option to offer them free shipping if they make low-price orders. Let's motivate customers to spend more in your shop!
Let's begin with $20 shipping cost. If customers spend more than $100.00, the shipping cost is $15 and for more than $200.00 – shipping cost is $10. Also, there is a free shipping for orders over $300.00.
This scenario can be easily achieved with Flexible Shipping, our great table rate shipping plugin for WooCommerce. Price Based Shipping is built in the free version of our plugin, so go ahead and try it for free.
How to configure shipping costs based on price #
In order to configure this scenario you will need to:
Install and activate Flexible Shipping plugin
Create a new shipping method in Flexible Shipping
Set rules like below: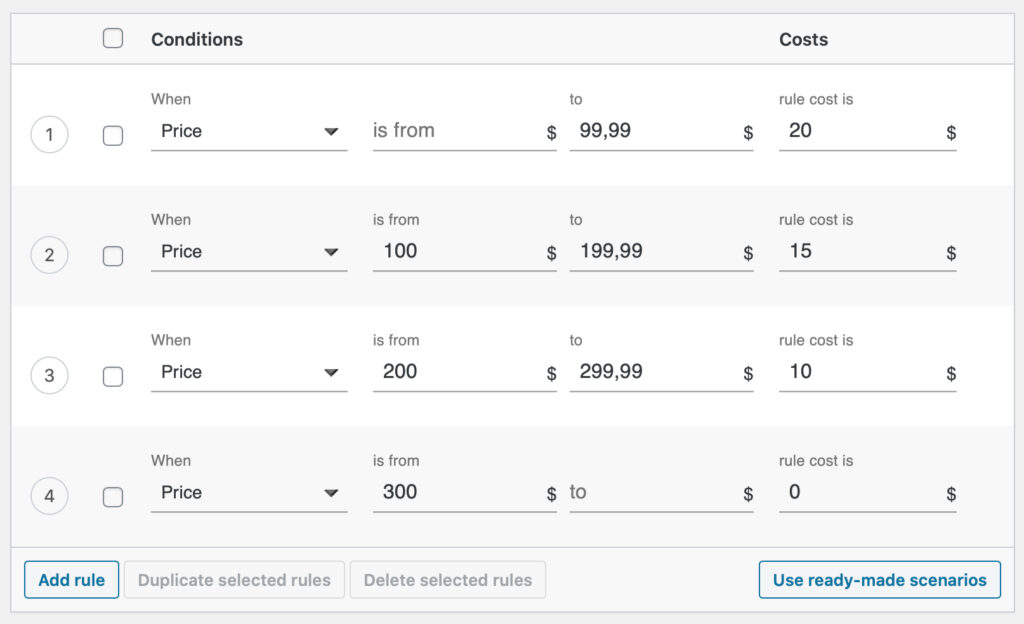 Results #
When your customer buys in your store he will pay:
$20.00 for orders from $0 to $99.99
$15 for orders from $100 to $199.99
$10 for orders from $200 to $299.99
nothing for orders over $300.00
This is a quite basic example on how to configure price based shipping for WooCommerce. With Flexible Shipping you can also create rules based on weight, a number of products or cart line items. This will take your store's shipping to the next level 🙂