What are the plugin requirements?
Do I need to install the Flexible Shipping or Flexible Shipping PRO plugin to make the FedEx work?
No, you don't. FedEx for WooCommerce is a stand-alone plugin and it does not require the additional Flexible Shipping or Flexible Shipping PRO installation.
How to set the sender's address?
The sender's address is automatically taken from the WooCommerce settings at WooCommerce → Settings → General → Store Address.
Do the live rates include tax?
It depends on the WooCommerce Tax Options. If they are turned on the prices will initially exclude the tax and it will be added then based on the WooCommerce configuration. If they are turned off the prices will include tax based on the shop base address.
Which currencies are supported?
FedEx API will show the rates in any currency the shop is currently using.
Does the plugin support the currency switchers?
Yes, the PRO version of our FedEx Live Rates plugin supports the currency switchers and here you can find the list of the switchers we have tested its compatibility with:
How to activate the debug mode?
FedEx dedicated Debug Mode can be easily activated by ticking the ☑ Enable debug mode checkbox in the Advanced Options section of WooCommerce → Settings → Shipping → FedEx settings: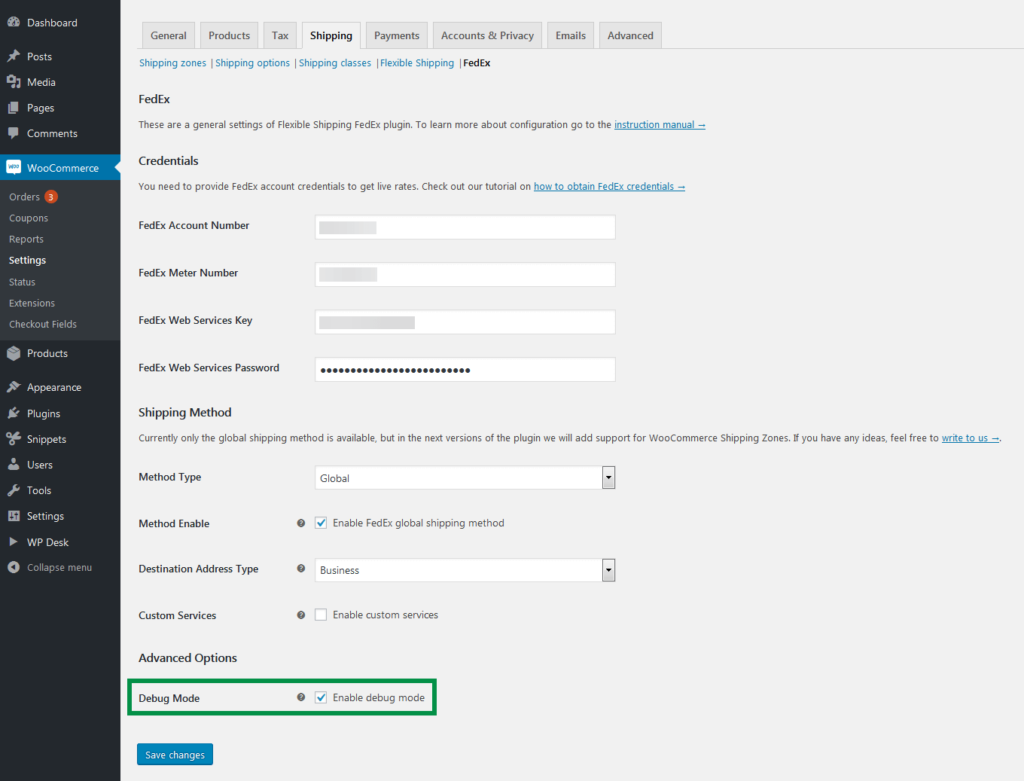 Will my customers see the notices generated by Debug Mode?
No, they won't. All the notices and data generated by enabling the Debug Mode will be visible only for the Site Administrators and Shop Managers. Your customers, no matter if they are guests or they are logged in, won't see any unnecessary info in the shop's frontend.