Once the Australia Post Live Rates shipping method was added within the shipping zone for which its services should be displayed, use its configuration screen to manage its settings and adjust them to your needs.
Method Settings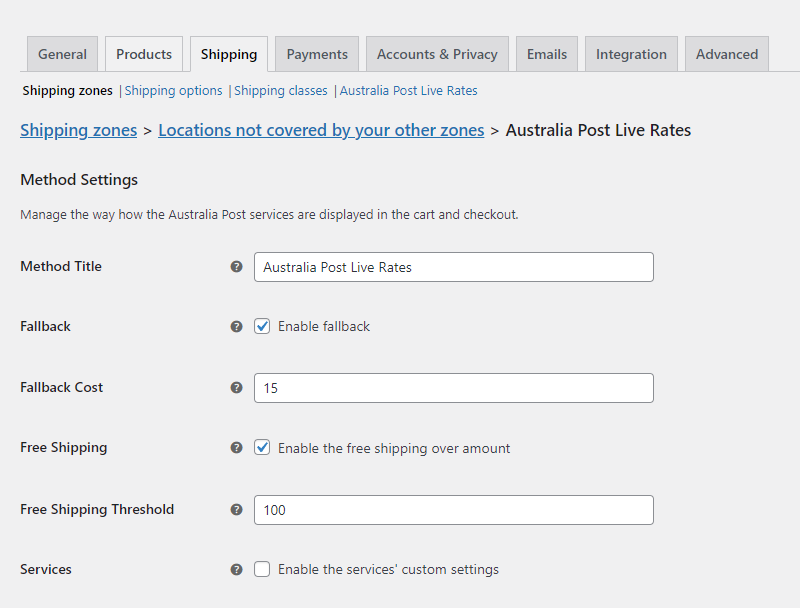 Method Title
– define the Australia Post Live Rates shipping method title which should be used in the cart/checkout when the Fallback option was triggered.
Fallback
– enable to offer a flat rate cost for shipping so that the user can still checkout, if the Australia Post API, for some reason, returns no matching rates. If selected, the additional Fallback Cost field will appear below:
Free Shipping
– tick the Enable the free shipping over amount checkbox in order to offer your customers the free shipping once the defined order total value threshold is reached. If selected, the additional Free Shipping Threshold field will appear below:
Services
– tick this checkbox to manage which Australia Post services should be available for your customers to choose from. You may also change their names here and set the order of how they are displayed in the cart and checkout.
If the checkbox is not selected all the services will be available by default.Please mind that the availability of services in the Services Table is affected by the Zone regions settings in your shipping zone, in which the Australia Post Live Rates shipping method was added. Our Australia Live Rates plugin supports both Domestic and International Services. Code in the Services Table indicates the Australia Post service type:
AUS_ – Domestic
INT_ – International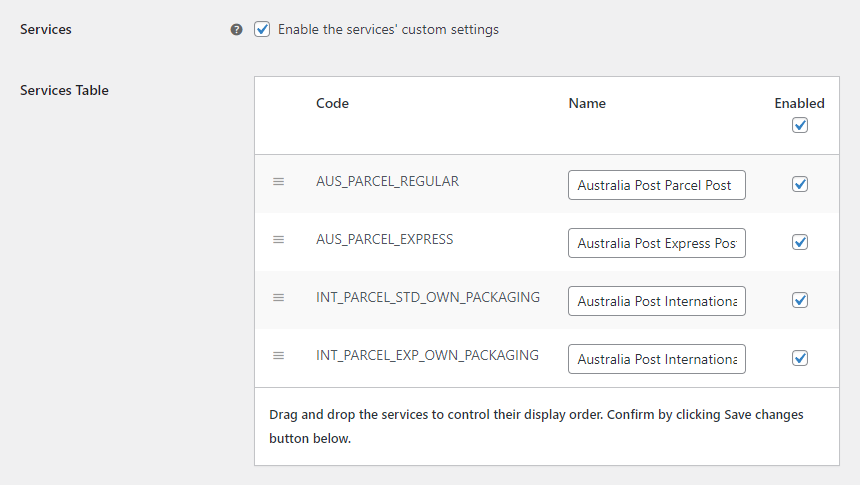 Package Settings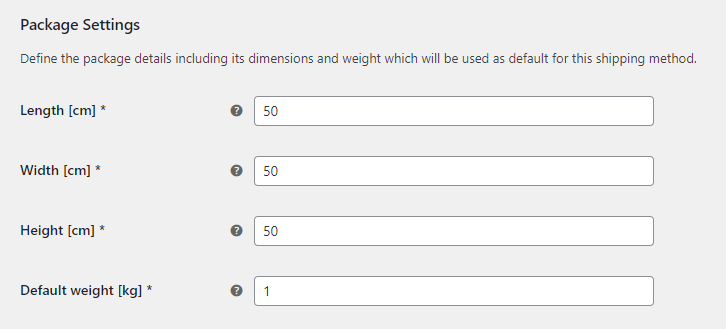 Length / Width / Height
– in order to get a rate calculation you must enter the default package Length, Width and Height for this Australia Post Live Rates shipping method.
Default weight
– if the individual product's weight has not been entered in the WooCommerce Product data → Shipping → Weight field for each of the products in your shop, the Default weightvalue will be used in order for the Australia Post API to be able to calculate the shipping rates.
If the weight of the products is entered, the total weight of the products in the cart will be used for the Australia Post rates calculation.
Rates Adjustments

Goods and Services Tax (GST)
– you can tick the Remove the GST checkbox in order to strip the 10% GST tax value from the shipping rates coming from Australia Post.