Do you want to send your parcels with UPS in your WooCommerce store? You are in the right place, then. In this article, I'll show you WooCommerce UPS plugin (free) and how to integrate it into your store. You'll get such features as live shipping cost calculations and worldwide shipping.

UPS is one of the biggest delivery companies in the world. Worldwide shipping with many options, UPS Access Points and UPS Live Rates – these are big advantages in using UPS as a delivery option in your store. How to use the full potential of their capabilities and perform UPS WooCommerce integration? It can be really simple – all you need is the right plugin.
Do I need a plugin for WooCommerce UPS shipping?
Yes, you will need a plugin. And you want it to be at as low cost as possible, right? I have it for you and it's free. It's called WooCommerce UPS Shipping and you can download it now.
Last Updated: 2023-10-03
Works with WooCommerce 7.8 - 8.2.x
This WooCommerce UPS plugin is a brand new addition to our lineup of WooCommerce shipping plugins used by over 9,000 stores worldwide on a daily basis!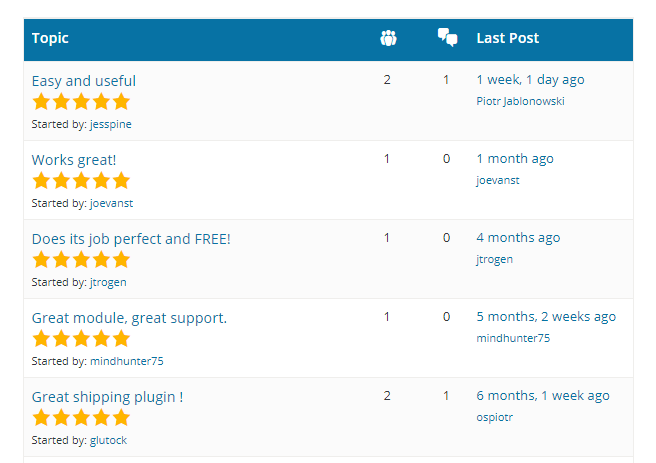 Our plugin has also been reviewed in LearnWoo's article about top free WooCommerce UPS Shipping plugins. Check it out!
But let's get back to work. You need UPS shipping in your store and I'm going to show you how to make it.
WooCommerce UPS plugin – installation
Once you downloaded the UPS plugin, you need to install it. You need to go to the Plugins → Add New section in your admin panel. Then click the Upload Plugin button.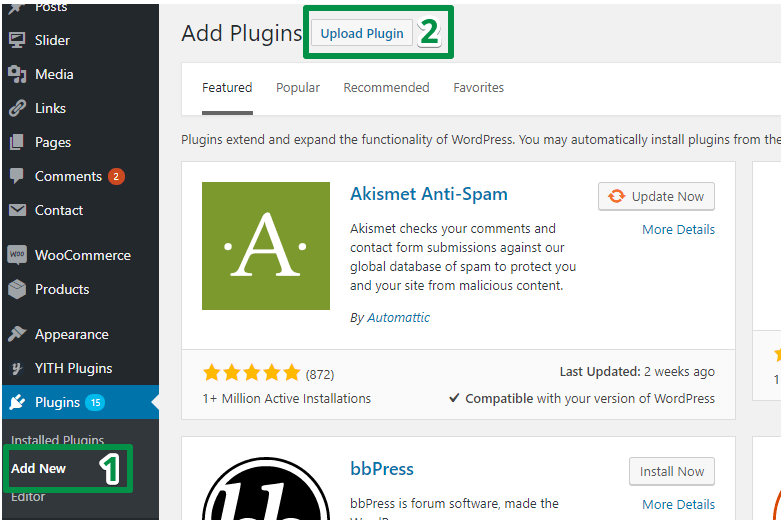 Next step is to activate the plugin. Got it? OK, you are ready to configure it. Click the Settings link on the Plugins page.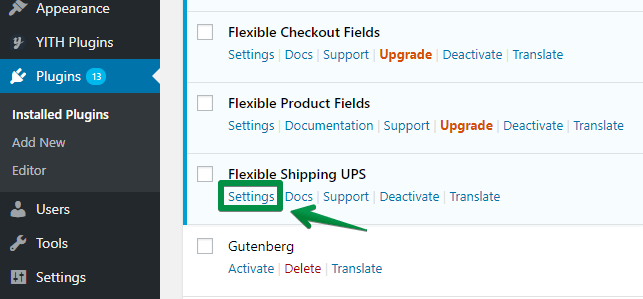 You will be redirected to the plugin settings.
How to configure the WooCommerce UPS plugin
API Settings
You need a UPS account. If you don't have the UPS account, you can set it up for free. Just head over to WooCommerce UPS docs for details. When you have an Access Key, you can fill the fields in this section. Provide your user ID, Password, Access Key and Account Number.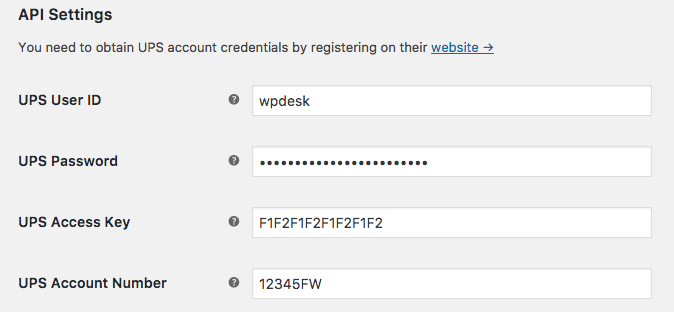 Origin Settings
You can set your custom origin in this section if you need. By default, the origin is taken from the WooCommerce settings (for WooCommerce 3.2 and higher). Custom origin is mandatory for older versions of WooCommerce.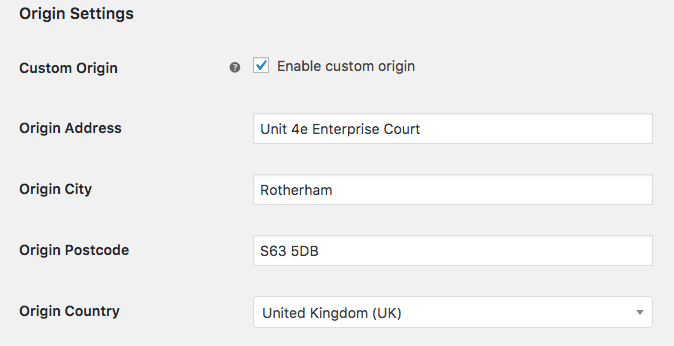 Advanced Options
Set your weight unit.
Debug mode is a developer option. You don't need it now. It's used when something is not working 🙂
API Status shows you if your store is connected to the UPS API. It will be available when you save the settings what you can do now.

So, does the API Status tell you it's OK? Then you are ready to add the UPS as a shipping method in your store. In not, please double check your API settings.
Add WooCommerce UPS to shipping methods
It's simple. Go to WooCommerce → Settings → Shipping → Shipping zones and select the shipping zone to which you want to add UPS shipping method.

On the next screen, click the Add shipping method button and select UPS.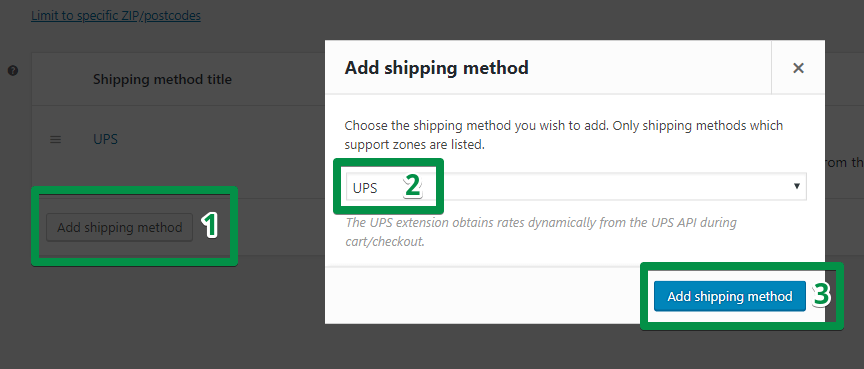 It's working now! Let's take a look: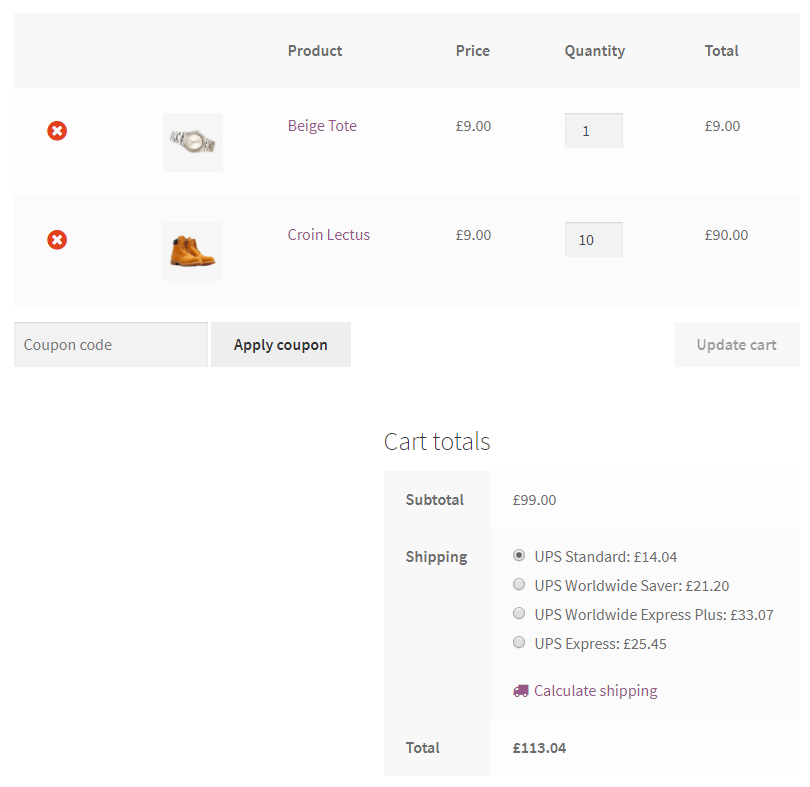 This WooCommerce UPS plugin works with worldwide shipping. It automatically calculates costs of both domestic and overseas shipping!
More features of the WooCommerce UPS plugin
This is an optional step. Our WooCommerce UPS plugin gives you some additional features. You don't have to use them. I just want to show you the UPS shipping method configuration: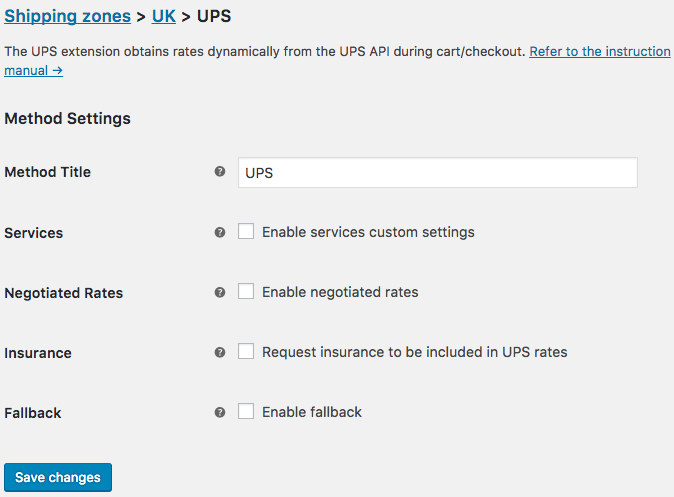 We have also created The Ultimate Guide to WooCommerce Shipping. Check it out if you want to know more about configuring shipping in WooCommerce.
Feature-rich UPS shipping WooCommerce plugin
If the free version is not enough, we also prepared the PRO version of the free UPS shipping WooCommerce plugin. It allows you to offer your clients real-time UPS shipping rates and UPS Access Points with drop points selection. With PRO version of the plugin, you can add UPS insurance, negotiated fees, show estimated delivery date or even automate box packing of WooCommerce order.
UPS WooCommerce Live Rates and Access Points PRO

€

69
Offer UPS Access Points support and live shipping rates in WooCommerce.
Add to cart
or
View Details
Octolize
Last Updated: 2023-10-03
Works with WooCommerce 7.8 - 8.2.x
Basically, it's a complete tool to adjust and control UPS shipping in WooCommerce. Let's go through all the best features of this plugin.
UPS Live Rates
UPS Live Rates are real-time shipping rates based on information from UPS API. With that, you don't need to adjust shipping prices to every change from the delivery company. It also allows you to get the right price of every UPS shipping option. With UPS shipping WooCommerce plugin you can not only use UPS Live Rates but also adjust them with UPS negotiated rates.
UPS Access Points
This UPS option is getting more and more popular among customers. And I'm not surprised – it's a very convenient option for shipment. You don't have to wait for the delivery driver, just pick the package in previously chosen access point when it suits your time. Read more about offering UPS Access Points in our article.
UPS estimated delivery date
That is a great improvement for User Experience in every WooCommerce store. Clients want to know how long they will have to wait for their package. With our UPS shipping WooCommerce plugin, that time will be displayed in the checkout page. All shipping time information is based on UPS API. Read more about UPS estimated delivery time feature in our article.
UPS automatic box packing
Now something that will help you to control shipping expenses. UPS WooCommerce Live Rates and Access Points PRO can automatically split multiple products into UPS boxes and display accurate shipping cost from UPS service. With that option, you won't overpay for shipping large orders. You can choose which UPS box you want to use. Read more about UPS automatic box packing in our article.
Free shipping over amount
UPS WooCommerce Live Rates and Access Points plugin allows you to set free shipping over amount. It will override all the UPS rates and offer free shipping to your customers if their shopping cart will exceed the free shipping threshold. It can be set for each UPS shipping method separately. Offering free shipping it's a great option to boost your sales!
Other features
There are a lot of other useful options, that can improve UPS shipping. You can control UPS live rates by adding commission or discount, enable UPS negotiated rates or add insurance cost for shipping. Our UPS shipping plugin also offers the ability to set fallback cost in case of connection problems with UPS API. We also thought about store owners, that want only add UPS Access Point without live rates.
Summary
UPS WooCommerce Live Rates and Access Points PRO is a good solution for many WooCommerce store owners. If you want to use UPS as a delivery option in your WooCommerce store, you will struggle with some shipping problems. With this UPS shipping WooCommerce plugin, it will be automated and under your control.