Do you need help with configuring WooCommerce shipping methods? You are in the right place. I'll teach you everything you need to know in this quick tutorial from basics and built-in shipping methods to table rate shipping, the most flexible way to manage shipping costs.
How to add shipping methods to WooCommerce?
Just go to WooCommerce → Settings → Shipping.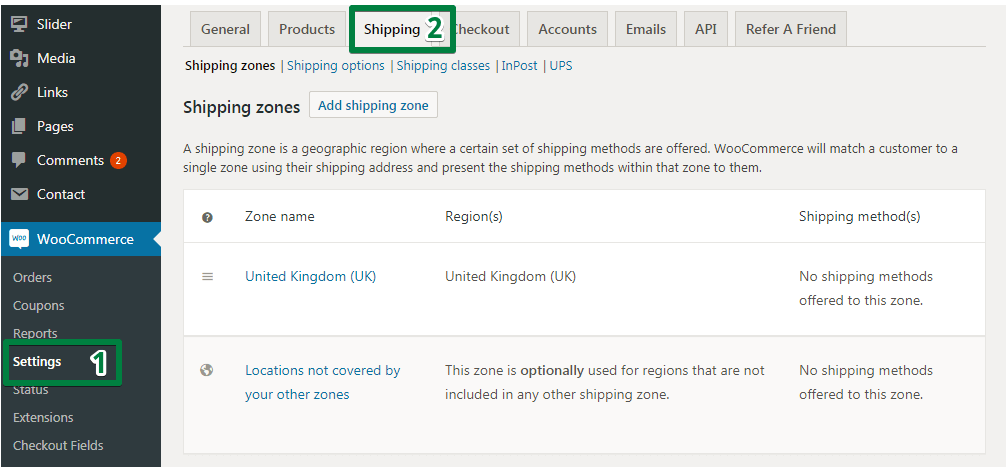 Next step is to click the shipping zone to which you want to add a shipping method. In my example, it is the United Kingdom (UK) shipping zone.
Right in the shipping zone, there is an Add shipping method button. Use it to add one of the built-in WooCommerce shipping methods.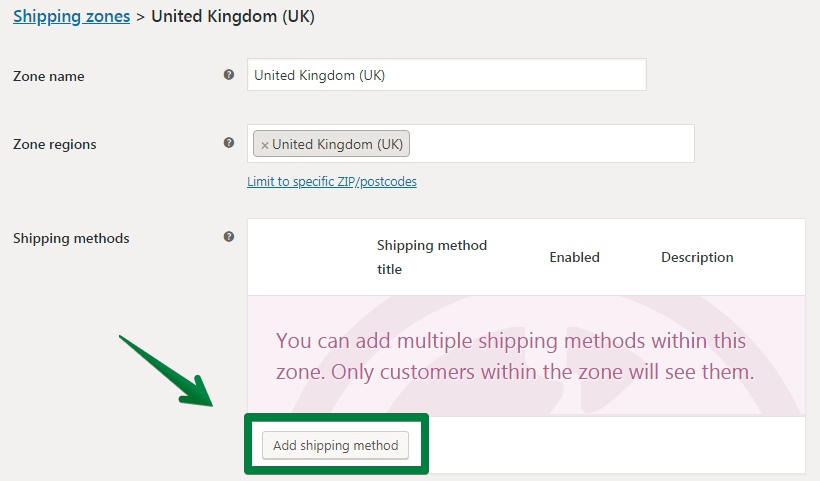 Built-in WooCommerce shipping methods
What options do you have available by default?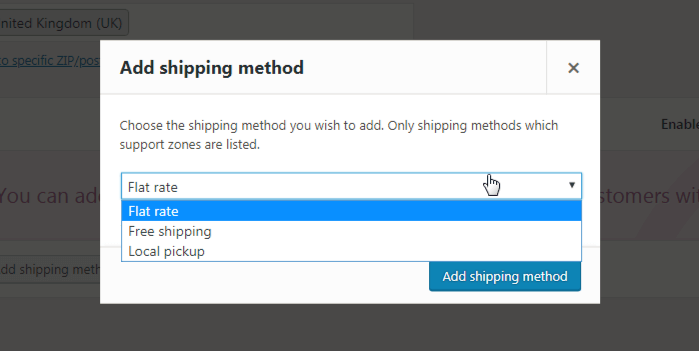 As you see, WooCommerce offers you three types of shipping methods. You can extend the list of options with plugins. I'll cover this topic later in this article.
What does each one of the available WooCommerce shipping methods offer you?
Flat rate
This is one of the most popular WooCommerce shipping methods used in stores. It means that for everything your customer buys, you offer the same price for the shipping. Hence the name: flat rate.
Have a look at the configuration screen: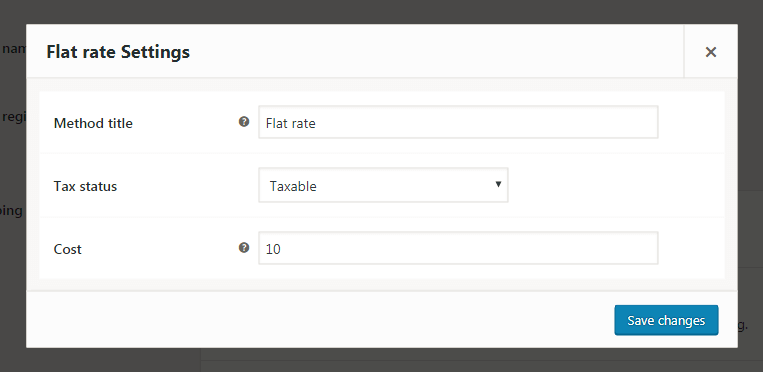 Method title – the name of the shipping method. This name is shown on the cart page and at the checkout. If you don't change the default name, it will look like this:
Tax status – you can set it to either Taxable or None. The second option makes the shipping cost non-taxable. Learn all about WooCommerce shipping taxes →
Cost – this option gives a few features. Of course, you can just insert some value like 10 in the previous example. (You don't provide currency symbols in here). But there's more of what WooCommerce offers you!
The quantity price of Flat Rate shipping method
You can set quantity price. Just insert i.e. 3*[qty] in the Cost option (for every item charge £3.00 for shipping). The result you would see for such formula is: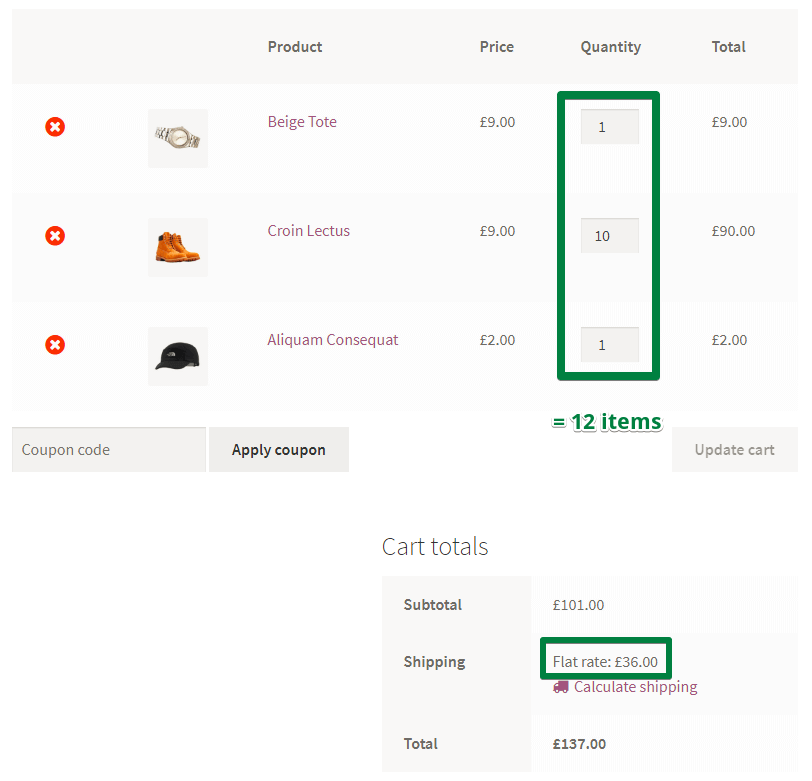 The fee price of Flat rate shipping method
There is also another option: a fee price. It means that the shipping cost equals defined percent of the cart subtotal. For this formula [fee percent="20"] you get following result in the cart. You see that the shipping cost equals 20% of the £101.00 subtotal: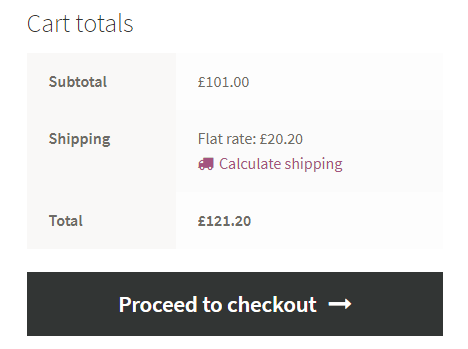 There is an option to make the shipping cost the same as the cart subtotal (100% fee). Simply use [cost]: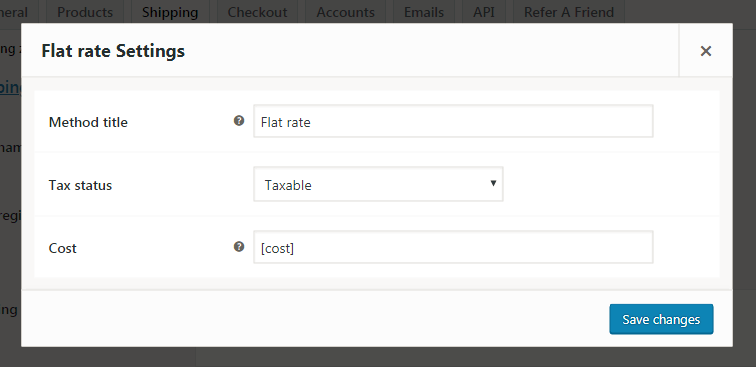 Here's the result: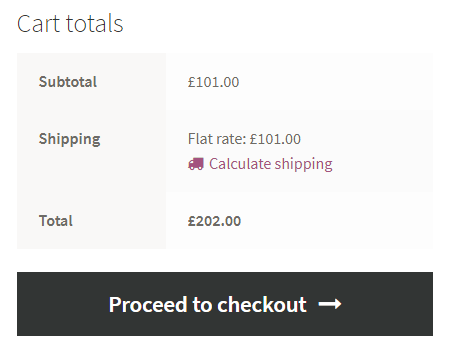 OK, you know what Flat rate is. Now let's go to the other two options.
Free shipping
It seems to be the simplest of the WooCommerce shipping methods. But it's not 🙂 If you want to offer simple free shipping with no other terms, you could simply use Flat rate set to 0. The Free shipping method offers some additional abilities.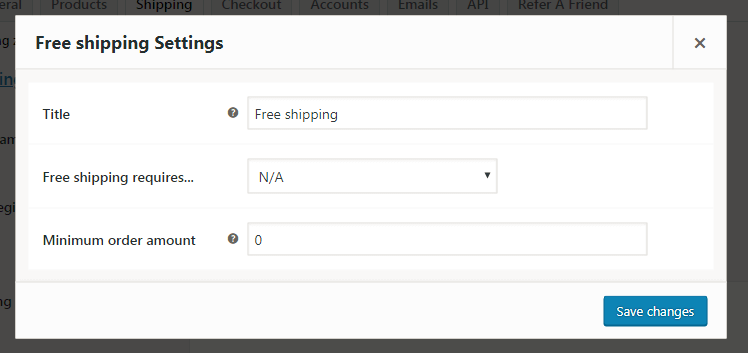 Title is just a method title displaying in the cart. Just like in the Flat rate.
However, we have some new options here. Let's look closer at the Free shipping requires… option:

Free shipping option will not be shown in the cart if the conditions you choose here are not meet. You can set minimum order amount (for example free shipping for order above £100.00). You can also require a coupon for free shipping.
How to generate such a coupon for marketing purposes? Just go to WooCommerce → Coupons → Add new and mark the Allow free shipping checkbox: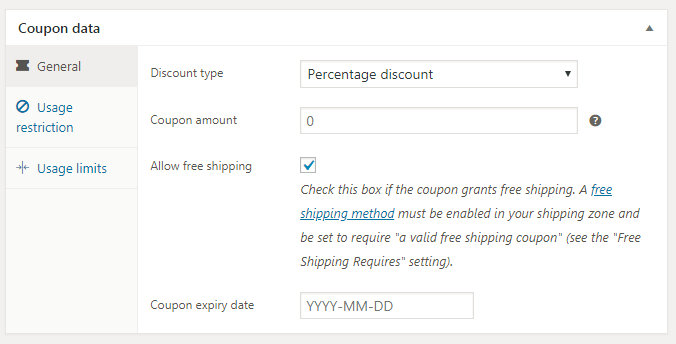 If you don't use coupons in your store, you should consider it to increase sales. Learn how to enable it and create coupons in WooCommerce →
Local pickup
This is the simplest one of WooCommerce shipping methods. You just insert the price and that's all. By default, when using local pickup store base taxes will apply regardless of customer address.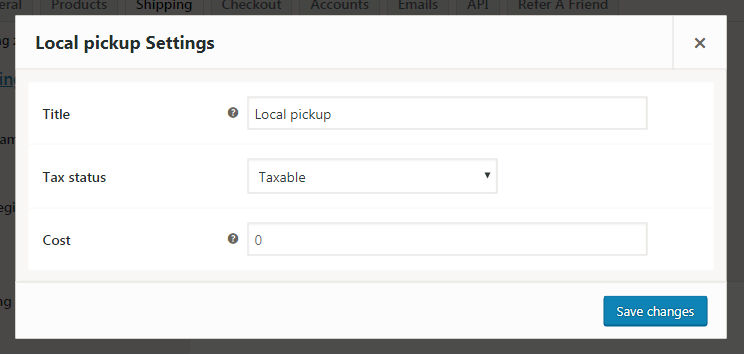 Now you know all the WooCommerce shipping methods available by default. It's time to learn how you can add some more features if the default WooCommerce shipping methods don't fit your needs.
Additional WooCommerce shipping methods
Table Rate Shipping is a method where you can set a lot of different rules for calculating shipping costs. Every rule can add some cost to the total cost or subtract a cost from it. A rule can use different conditions such as:
If all items from an order weight from 1 lbs to 5 lbs, then add $15 to the shipping cost.
When items from shipping class ABC are in the cart, then subtract $2 from the shipping cost.
If there are more than 3 items in the order, then add $6 to the shipping cost.
And it's all inside one method! You can create as many advanced shipping methods with table rate shipping as you want. There's no limit. You can name shipping methods however you want. It could be a name of shipping company such as DPD, DHL.
Where does the name table rate shipping come from? You enter all rules in a simple table. Read this article about table rate shipping if you want to know more.
Table Rate Shipping method is the best solution for you if you sell products in different sizes and weights. With this method, you have to overpay for shipping ever again.
You can download Flexible Shipping for free now! If you need any help with configuration of the table rate shipping, this video will help: Table Rate Shipping – How to use?
Flexible Shipping WooCommerce
The best Table Rate Shipping for WooCommerce. Period. Create shipping rules based on weight, order totals or item count.
Download for free
or
Go to WordPress.org
Octolize
Last Updated: 2023-11-23
Works with WooCommerce 7.9 - 8.3.x
Shipping plugins
There are other shipping plugins on the market. Some of them are integrations such as DPD UK. These plugins not only let you add a shipping method but they have some additional features. DPD UK creates shipments automatically for selected order status (i.e. completed):

Some other plugins such as Free WooCommerce UPS plugin offers real-time shipping rates so the shipping cost seen in the checkout is the one you have to pay UPS for shipment.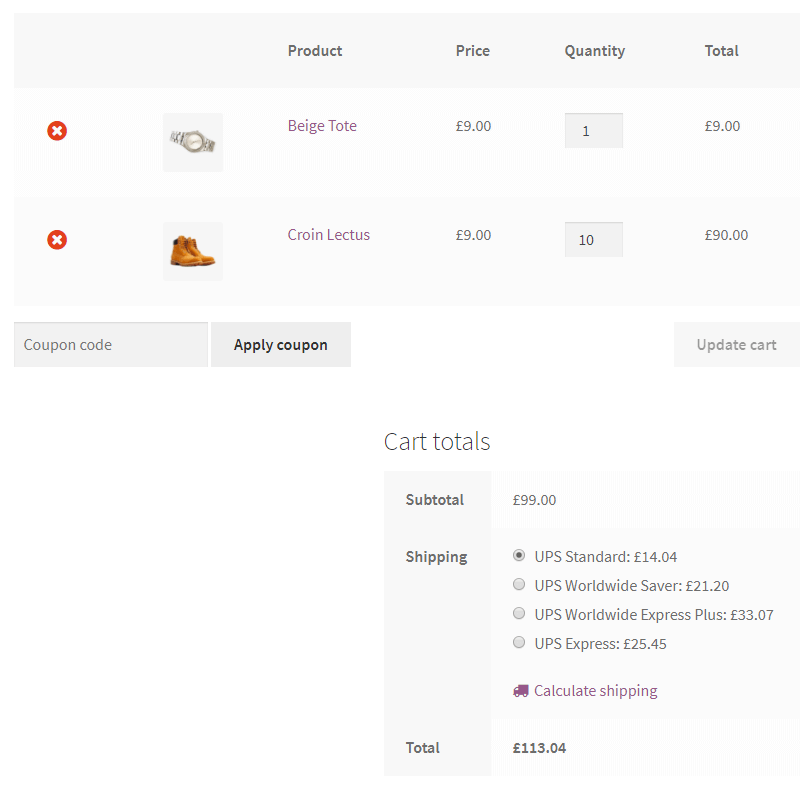 What plugin is the best for your store? It depends on your needs. You'll have to do your research if you need something more than what I've shown you in this article. WordPress has a big directory of plugins. You will be able to easily add more feature-rich WooCommerce shipping methods. Just start with the plugin search box in your admin panel.
Are you ready to create some shipping methods in your store?
In this article you have learned what are the WooCommerce shipping methods and how to configure them. Also, you've learned some additional options if the default WooCommerce shipping methods don't fit your needs. If you have any questions about this topic, just use the comment section below. Have a good day!
PS. We have created The Ultimate Guide to WooCommerce Shipping – I recommend this guide if you are a beginner.