Which shipping supplier to choose for your WooCommerce store? The United Parcel Service (UPS) and the United States Postal Service (USPS) are two of the most popular options for WooCommerce delivery in the US market. In this article, I'll compare UPS vs USPS thoroughly to make this important decision more convenient.
United States' top shipping service providers
Let's explore why comparing UPS and USPS while leaving out FedEx or DHL is a logical choice. The primary factor is the overwhelming popularity of UPS and USPS as the dominant courier companies in the US market. This assertion is supported by data from Statista, which highlights the share of online stores that utilize the services of the main shipping service providers in the United States in 2020.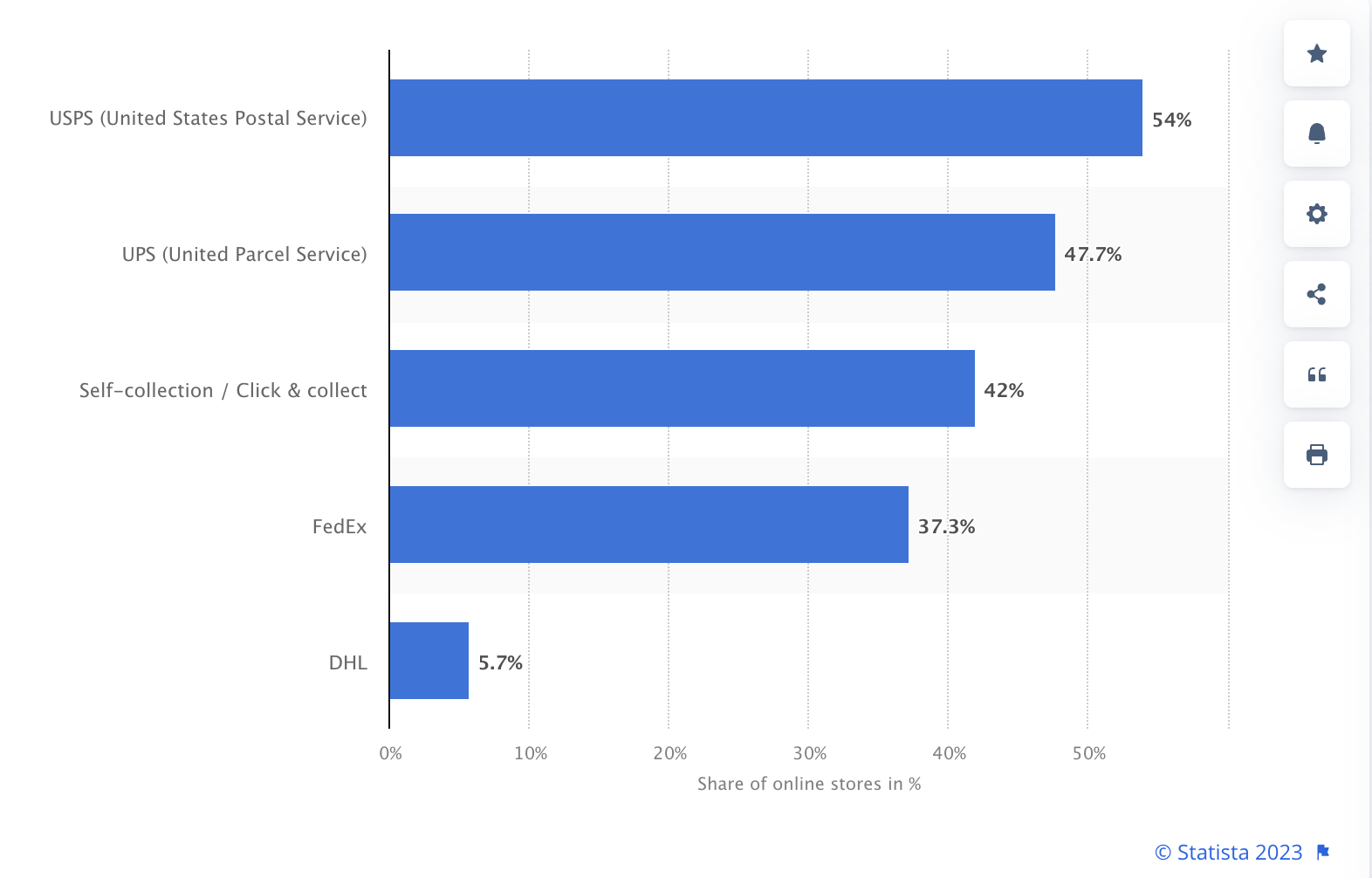 Overview of UPS
The worldwide recognized shipping company UPS, officially known as United Parcel Service, has made a name for itself as a dependable and trustworthy partner for online retailers. UPS, renowned for providing a wide range of services, especially for online businesses, provides an array of advantages tailored to the special requirements of WooCommerce site owners.
The size of UPS's delivery network is one of the main benefits of working with it. UPS guarantees that your items may be transported to consumers who are situated all over the world thanks to its broad reach and global presence. It's known for quick and secure delivery and a superb tracking system.
Overview of USPS
Another well-liked delivery option for WooCommerce shops is USPS, particularly for domestic shipments inside the USA. The United States Postal Service (USPS), also known as the Post Office, US Mail, or Postal Service, performs an important function on behalf of the US federal government as an autonomous agency. Its main duty is to provide postal services across the United States, including all its insular territories, including Puerto Rico. Personal and "US Mail" letterboxes in the United States are only accessible to the Post Office. Many WooCommerce business owners like USPS's broad reach, dependable shipping, and affordable options.
UPS vs USPS: Comparison of Key Factors
Pricing and Cost-effectiveness
Both UPS and USPS offer competitive pricing structures for WooCommerce stores. To evaluate cost-effectiveness, consider factors such as your packages' average weight and size, the destinations you commonly ship to, and any specific additional services required. It is recommended to compare UPS and USPS shipping rates based on your store's specific shipping profile to determine which option best aligns best with your budget and requirements.
Due to taxes and surcharges, UPS sometimes costs more than USPS, particularly when sending smaller products. When delivering smaller items weighing less than two pounds, USPS often provides substantially better prices. Due to its higher value, UPS is often a better option for transporting larger, heavier products due to its higher value.
USPS Parcel Select will be a more affordable alternative than UPS Ground if your package weighs no more than 66 lbs and you're seeking a price for ground delivery in the US, but the transit time will be a little longer. UPS Ground will be less expensive for bigger items (above 70 pounds).
Shipping Options and Delivery Speed
UPS offers a wide range of shipping options, including ground, expedited, and same-day delivery services. These options are particularly beneficial for WooCommerce stores prioritizing fast and reliable shipping. UPS's extensive network and advanced logistics capabilities contribute to its ability to provide efficient delivery services.
USPS also provides various shipping options, such as First Class Mail, Priority Mail, and Priority Mail Express. While USPS may have slightly longer delivery times than UPS, they offer cost-effective solutions, especially lightweight packages.
Service Coverage and Reach
UPS and USPS differ in terms of service coverage and reach. UPS has a vast domestic and international network, making it suitable for WooCommerce stores with a global customer base. Additionally, UPS offers extensive services for international shipping, including customs clearance assistance and tracking capabilities.
USPS is renowned for its widespread coverage across the United States, making it an ideal choice for WooCommerce stores primarily serving customers within the country. USPS also provides international shipping services, allowing you to expand your reach beyond the U.S.
Tracking and Customer Experience
When it comes to tracking packages, UPS and USPS, both provide these services. In-depth real-time updates are provided by UPS's advanced tracking system, offering you and your clients peace of mind. The amount of the data provided by USPS's tracking services varies based on the shipment method and may be less precise than those offered by UPS.
Integration with WooCommerce
For WooCommerce stores, one of the most important elements when choosing between UPS and USPS is the ability to integrate with WooCommerce itself. With the size and popularity of both carriers, finding an integration should be easy. Conversely, the challenge is finding the integration that best suits your and your store's needs. Let me show you some of the available integrations and their capabilities.
UPS integration with WooCommerce
UPS has many plugins for integrating this courier with WooCommerce, both free and paid. These solutions can be divided into two main groups: automatic rate display and label printing. When choosing the right plugin, you should be guided by popularity, ratings and regularity of updates. This last element is the most important, mainly because of the security of your WooCommerce store.
UPS Live Rates
With the UPS live rates WooCommerce integration, you can display accurate shipping rates based on package details, origin, and destination. You can find several solutions on the market that offer UPS Live Rates. If you want to see if this is your solution, you can start with the free UPS WooCommerce Live Rates and Access Points plugin.
You can provide a comprehensive selection of UPS delivery choices by using it. Integrating the plugin is effortless and takes only 5 minutes. Customers may view all UPS delivery options and their current shipping costs in your store's checkout. The UPS API automatically calculates the shipping cost based on the delivery address, the location of the store's origin, and the weight and size of the items in the basket. Support for UPS Access points is provided. It's an excellent tool for figuring out how much it will cost to transport something domestically or internationally.
Last Updated: 2023-09-06
Works with WooCommerce 7.7 - 8.1.x
If you need more advanced calculations, you can use the PRO version. If in doubt, check out our features comparison of both versions.
UPS Labels
In addition to displaying shipping costs, an important element of shipping fulfillment in WooCommerce is the ability to create and print shipping labels. The solution to this is another plugin: UPS WooCommerce Labels and Tracking. This plugin enables UPS shipment tracking by the shop administrator and their customers, as well as the ability to produce UPS shipping labels straight from the WooCommerce admin panel.
Additionally, it's fully compatible with other Octolize plugins – Flexible Shipping and previously mentioned UPS WooCommerce Live Rates and Access Points. This allows you to use advanced condition-based shipping costs or take advantage of live ups shipping rates directly from your UPS account. If you are looking for the most complete WooCommerce UPS shipping integration, combining those three plugins is the best solution for you.
USPS integration with WooCommerce
Regarding integrations with WooCommerce, USPS lags behind UPS due to its limited availability in the US market. However, despite this constraint, there are still numerous options available. As with UPS, you'll find both paid and free solutions. This ensures you have ample choices when incorporating USPS services into your WooCommerce store. Whether you opt for a paid integration that offers advanced features and enhanced functionality or a free solution that provides basic USPS integration, there are alternatives to suit various business needs and budgets.
USPS Live Rates
Live Rates solutions are gaining popularity among WooCommerce store owners. This solution saves a lot of time configuring shipping costs and reduces the worry of updating these costs each time the courier's rates change. It's the opposite solution to flat rate and table rate shipping, where the store's owner sets all the shipping costs by himself.
As with UPS, you will find several plugins on the market that offer live rates for the US market. A free solution to start with is the USPS WooCommerce Live Rates plugin. It allows you to offer a full range of USPS shipping options and display automatically calculated shipping costs based on the client's address and the exact products they order.
USPS WooCommerce Live Rates
Offer your customers the automatically calculated USPS shipping live rates.
Add the handling fees, insurance and more. Adjust them to your needs with just
a few clicks!
Download for free
or
Go to WordPress.org
Octolize
Last Updated: 2023-09-06
Works with WooCommerce 7.7 - 8.1.x
If you need more advanced shipping options, you can also use the PRO version of the UPS Live Rates WooCommerce plugin.
USPS Labels
To print USPS shipping labels, you can use the official shipping solution from WooCommerce. This seamless integration enables you to generate printable labels directly from your WooCommerce Dashboard, streamlining the entire label creation process.
Conclusion
Selecting the right shipping supplier for your WooCommerce store is a crucial decision. I hope that I have made this difficult decision easier for you by comparing UPS and USPS based on factors like pricing, shipping options, and integration with WooCommerce. Remember to consider your specific requirements and the preferences of your target customers when determining which supplier to choose. Remember to make sure you have a fitting WooCommerce integration for your store. Good luck!