One of the best ways to take care of your customer during shipping fulfilment is to send them a tracking link of their package. For most couriers, including UPS mentioned in this article, you can do it manually in the UPS system. But isn't it better to add WooCommerce UPS shipment tracking in automatically? In this article, I will show you how to do it with only one click.
If you are reading this article and a WooCommerce store owner, you are probably using UPS shipping services to deliver products to your customers. So I don't need to convince you how significant it is to save time when handling your online store and how shipping is an essential part of the entire process. So let's get straight to the point and dive into how to enable UPS shipment tracking in WooCommerce.
WooCommerce UPS shipping plugin
As usual with WordPress, the solution is the right WooCommerce UPS shipping plugin. It's the easiest and fastest solution. In most cases, you need to install it, connect it to courier services and voilà, everything works. And you can start to manage UPS shipping directly from your WooCommerce store. This is precisely the case with the UPS WooCommerce Labels and Tracking plugin.
This plugin does exactly what its name implies – it allows you to create UPS shipping labels directly from the WooCommerce admin panel and WooCommerce UPS shipment tracking by the store admin and their customers. One of the most amazing features of this plugin is the shipment tracking. You can share live UPS shipment tracking updates with your customers via email.
UPS WooCommerce Labels and Tracking

£

79
Create the shipments, generate the printable UPS shipping labels for the placed orders and track the parcels directly from your WooCommerce shop.
Add to cart
or
View Details
Octolize
Last Updated: 2023-11-07
Works with WooCommerce 7.9 - 8.3.x
The plugin is fully compatible with other popular plugins from the Flexible Shipping company – Flexible Shipping and UPS WooCommerce Live Rates and Access Points PRO. This allows you to use advanced condition-based shipping costs or take advantage of live ups shipping rates directly from your UPS account. Especially the combination with live rates gives the most complete WooCommerce UPS shipping integration. It's much more than just the live ups shipping rates. It also supports UPS box packing and UPS Access Point service.
This allows you to customize the plugin to meet your needs fully. Of course, you can use the UPS Flat Rate shipping method included in the plugin and also add shipping to orders with other shipping methods.
Why is WooCommerce shipment tracking important to your e-commerce business?
You are probably wondering, why bother adding a shipment tracking link in WooCommerce, and what is its impact. Due to the high competition in online stores, customers are paying more and more attentive not only to the prices themselves, but also to the service in online stores. There is a very popular term for this – Customer Experience. Order tracking provides customers with peace of mind and can even win over hesitant buyers. A pleasant purchase experience builds customer loyalty.
It is best practice to make the tracking number as visible as possible after customer purchase. Some companies send a confirmation email that also includes the tracking number. Unfortunately, WooCommerce by itself does not have this option, so an additional solution is needed to add a tracking link to WooCommerce purchase emails. This solution is the simplest and most popular one. To be honest, that's the all you need when it comes to shipment tracking.
How to enable a WooCommerce UPS Shipment Tracking in your store?
If you have the UPS WooCommerce Labels and Tracking plugin installed and active, let's move on. I will try to walk you through the process step by step.
Connect UPS with WooCommerce via API
Before you can enable a WooCommerce UPS shipment tracking, you must properly configure the plugin. In the case of UPS WooCommerce Labels and Tracking plugin, it is effortless. You have to provide your UPS API credentials. To reach the plugin General settings, go to WooCommerce → Settings → Shipping → UPS Labels. To connect your WooCommerce store with the UPS API, you have to enter UPS User ID, UPS Password, UPS Access Key and UPS Account Number in the appropriate fields.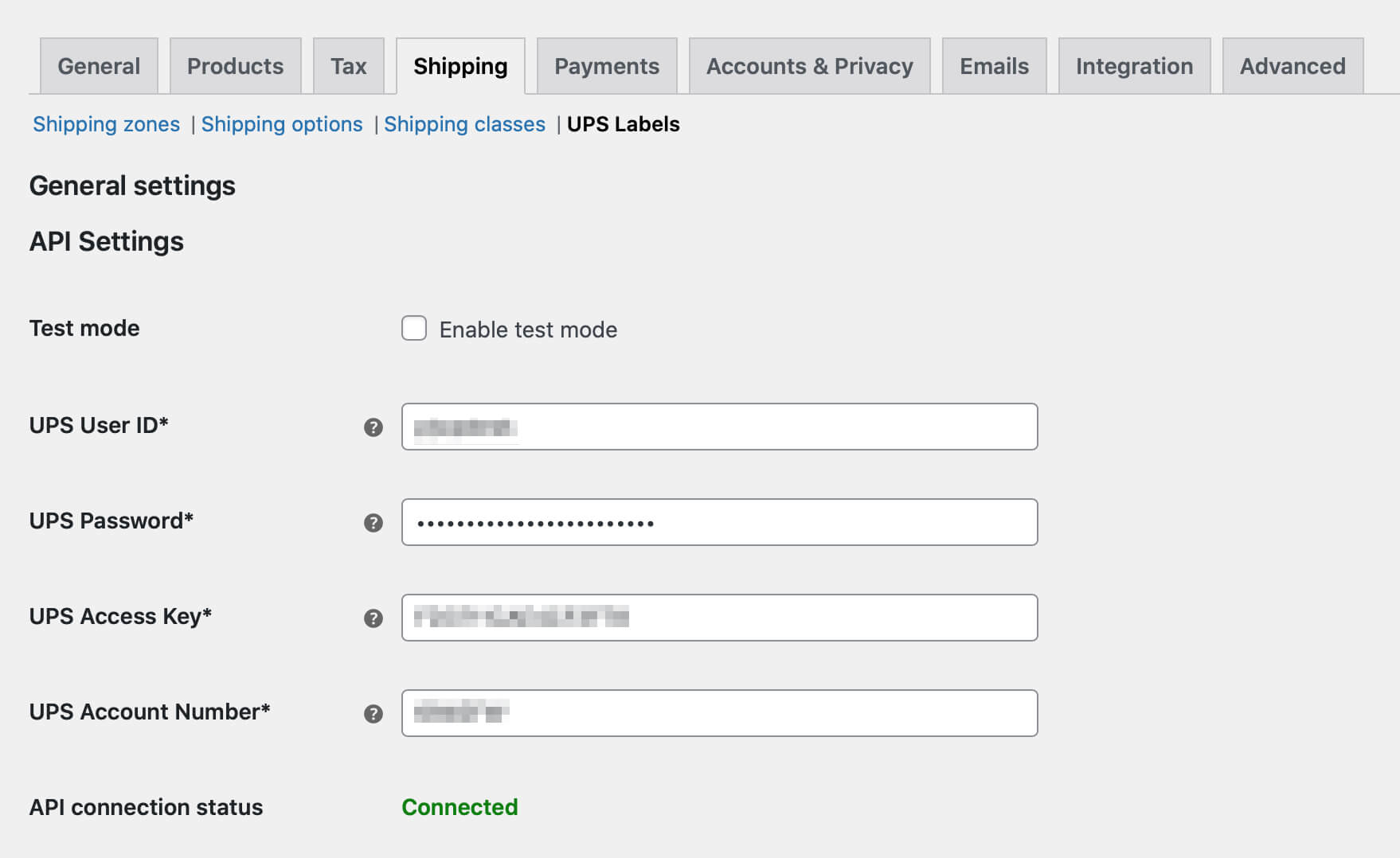 Once you have completed all fields, save your changes. If all the entered data is correct, you will get the message Connected in the API connection status field, as shown in the image above.
Now the most important thing. As I promised, to enable UPS Shipment Tracking in WooCommerce you only need one click, basically checking one checkbox. Under the API Setting, you'll find the Advanced Options. There, you have the Tracking number checkbox. Just check it to add UPS parcel number with tracking link to WooCommerce transactional emails and order details. Remember to save the changes!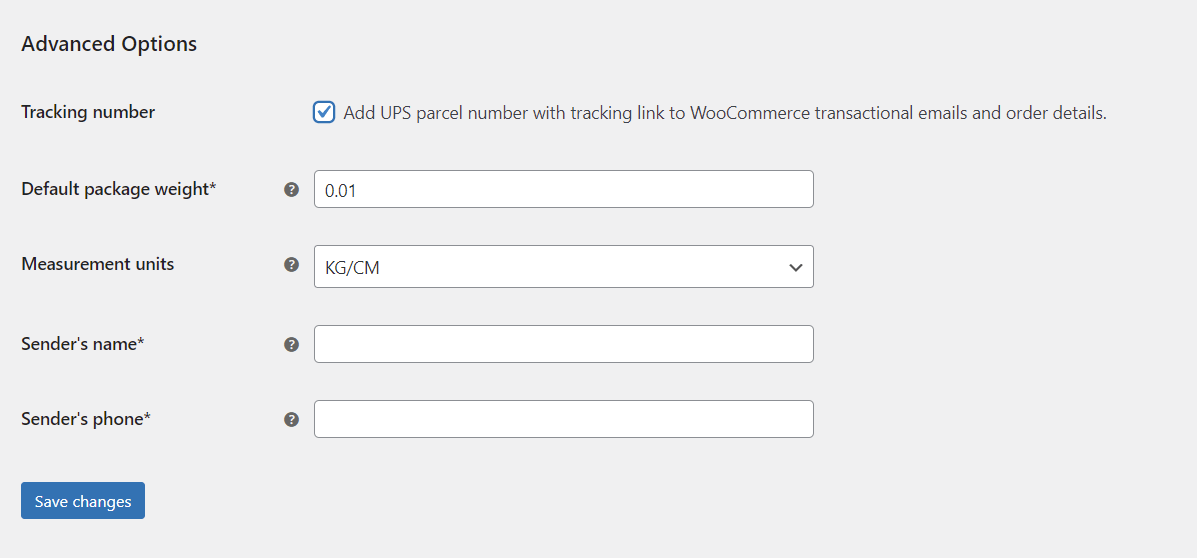 Once the plugin is configured, we can proceed to create UPS shipments. I described exactly how to do this in an article on how to create and print UPS Shipping Labels in WooCommerce.
These settings will ensure that the parcel tracking link will be added to the WooCommerce transactional emails sent to your customers once their order is shipped. This should have a positive impact on the customer experience in your WooCommerce store. I hope this small element will boost your sales.
Tips and hints
As a bonus, I can hint that it's not just UPS Flat Rate that makes it easy and fast to create UPS shipping in WooCommerce. If you want to use more advanced delivery cost calculation, you can use dedicated plugins for that:
Flexible Shipping (free and PRO version)

UPS Live Rates (free and PRO version)