WooCommerce shipping is often underestimated by store owners, or even treated as just another element in the store that matters little. In this article, I would like to show how shipping can affect WooCommerce sales based on research and factual data.
The shopping experience includes two stages, separated by the moment of placing an order. Before submitting, all shipping information, such as price, available shipping methods or time, matters significantly in purchasing. After the order is placed, on the other hand, we have all the shipping fulfilment that influences whether the customer will purchase from the store again. Both stages are crucial and, if developed well, can bring success to an online store.
Each stage consists of many minor elements that are worth paying attention to. In this article, I'll go through each of them, showing what steps are worth taking to turn shipping into one of the most significant advantages of any WooCommerce store. Let's dive into the specifics and elevate your customer's shopping experience to the next level.
Shipping as a part of customer experience
In Octolize, we strongly believe that shipping can make or break e-commerce sales. Without a doubt, it's a crucial point of the purchase process. However, at this point, whether or not the sale will be closed depends on the quality of the experience you provide your customers. To ensure that these are not just our beliefs, let's take a look at the reasons for abandonment during the checkout report from Baymard Institute.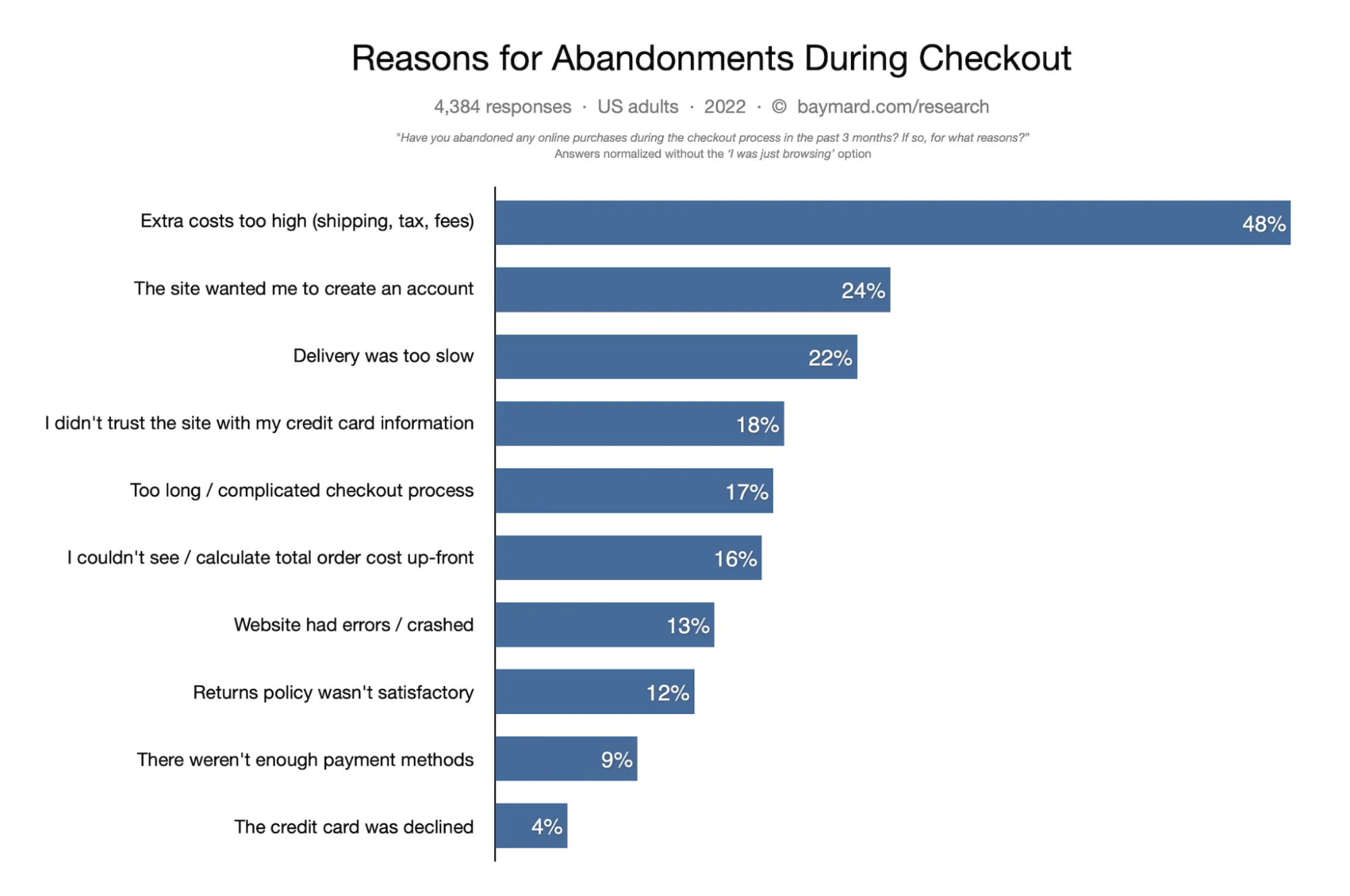 Of the top ten most common reasons for abandoned shopping carts, four are shipping-related:
Unexpected shipping costs

Delivery was too slow

The return policy wasn't satisfactory

I couldn't see/calculate total order cost up-front
This clearly shows the importance of shipping for sales and protecting against abandoned shopping carts. Therefore, let's go through all the elements related to shipping that can increase Conversion Rate or Save Cart Abandonment.
Turn shipping into a Cart Abandonment shield
Free Shipping is the king
Starting this list with free shipping is no surprise. Customers love free shipping; the same goes for free shipping in WooCommerce. The question is how much it matters. This is clearly shown in a study conducted by Morning Consult.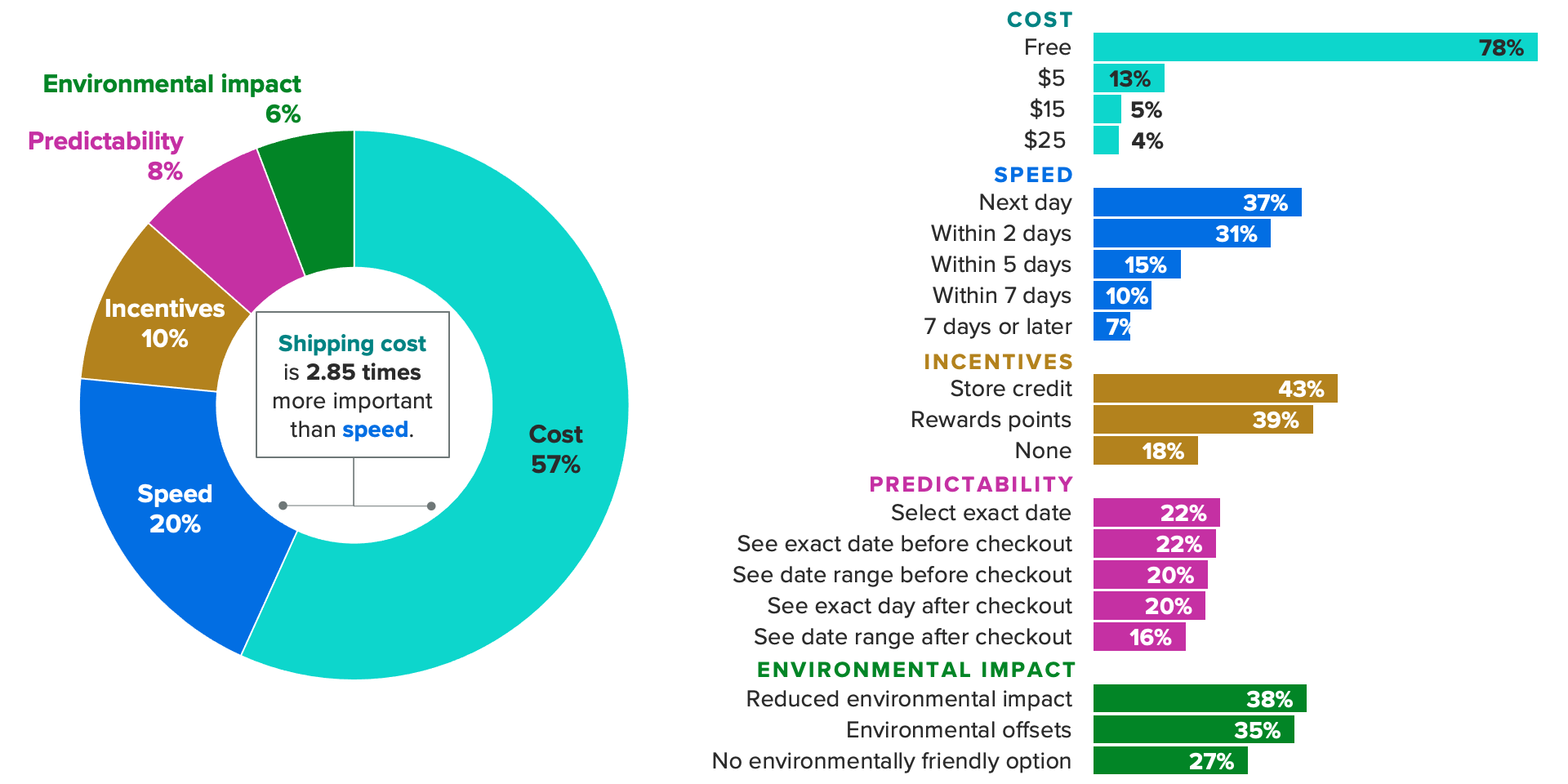 On the left, you can find the average importance of the following shipping features; on the right, the probability of a shopper selecting each feature level. The data shows that shipping cost is 2.85 times more important than speed. And the preferred shipping cost is, of course, free.
How to make the most of free shipping?
However, this does not mean you will offer free shipping for every order from now on. Free shipping is not free and must be included in the price of a product or spread over more products. That's why the most common action with free shipping is to use free shipping above a certain amount or free shipping available on a specific number of products in the shopping cart. Such activities not only make the actual cost of free shipping spread over more products (so you can have lower margins) but also give a tangible profit for your store. If we add here that free shipping positively affects Conversion Rates, we have a clear explanation of why free shipping is the king.
Some tips on how to maximize the effectiveness of free shipping in WooCommerce:
Fast delivery matters
The previously mentioned survey showed that shipping cost is the most important. Still, right behind that, respondents pointed to speed of delivery as a vital element of shipping. Shipping speed plays a key role in online shopping while making purchase decisions. While making an online purchase, shoppers want reassurance and promptness. If your business recognizes fast delivery, it may remain competitive in the contemporary e-commerce industry governed by instant satisfaction. For all e-commerce-based enterprises, prompt and dependable delivery is essential for online purchases.
Instead of being a luxury service as it once was, most clients now expect next-day and same-day delivery alternatives. Moreover, they are willing to pay extra to receive their shipment earlier.
The Morning Consult research I shared earlier showed that the first two days are the most important. Waiting longer for delivery can make people want to check out a competitor's offer. So, offering next-day or 2-day delivery can give you a competitive edge and positively impact your store's conversion rate.
Expected delivery time
Regarding delivery time, informing users about the expected date when they will receive their product is incredibly important. It is a crucial component of the online shopping experience and is essential for ensuring customers are satisfied with their purchases. In addition, providing a specific date or an exact number of days when they will receive their package gives customers the sense of control they desperately want.
Clear return policy
When you consider your online store, the return policy isn't the first item that comes to mind. However, it has an impact not only on the conversion rate but also on returning customers. Well laid out, it creates a sense of security and inspires confidence in your store. Your return policy should be consumer-oriented so your potential client gains some reassurance to complete an order.
How to Create a Return Policy to Boost Sales?
make your Return Policy easy to find

make your language simple to understand

consider offering free return shipping

establish explicit rules for what can be returned

create a returns FAQ Page
Shipping cost on the product page
Customers also prefer to avoid unexpected costs. The simplest and very effective solution is to display the shipping cost already on the product page. Based on a study conducted by Baymard Institute, 64% of the test subjects looked for shipping costs on the product page before deciding to add a product to the cart. This demonstrates clearly how much simpler it is for your clients to decide whether or not to buy when the shipping cost calculator is enabled on the product page. You may simplify shipping and reduce the number of abandoned carts in your business by doing this.
Number of shipping options
Today's shoppers are looking for more options and control over the shipping process than ever before. Visitors are prepared to switch if a store does not offer adequate delivery methods. Your e-commerce will be more appealing and have more opportunities to convert prospects into consumers if you provide speedier and more lucrative choices. Additionally, this approach allows for case-by-case adaptation, better meeting customers' demands. It could hold the secret to increasing your market share and improving your position relative to your rivals.
Customers have their preferences when it comes to suppliers. This causes that there may need to be more than just offering shipping by one company. Being able to ship through at least two couriers should be adequate. Give customers a choice.
Personalized Shipping Experience
UPS recently published its research, indicating that nearly 70% of consumers are willing to pay for newer services that would enhance personalization. This demonstrates that customers are reconsidering the advantages of free or quick delivery and want greater control over their shipments. This change also shows how common personalization has become. Reorienting shipping experiences in this way helps build and maintain a devoted client base, which is crucial for retailers. Giving customers a choice over delivery monitoring, arrival date selection, or even the ability to add customization features like shipment insurance may have a significant impact.
Eco-friendly
You may distinguish yourself from the competition by demonstrating to your customers that your business is actively working to reduce carbon emissions across your supply chain. By changing their packaging, many businesses take advantage of this marketing opportunity. As trends worldwide show, this ratio may still gain importance in the coming years.
In addition to the store implementation itself, it is worth adding such information to shipping methods. A small eco-friendly icon or sign and a link to a clear explanation of how this works in your store can make a big difference in customer satisfaction.
Parcel lockers
The last feature I would like to highlight are parcel lockers, known as PUDO (Pick-up Drop-off) delivery services. It allows customers to pick up or drop off their items at a safe location nearby. In today's digital age, where customers seek the best and most convenient shopping experience, it's getting increasingly popular. Almost each courier company offers their own PUDO delivery service.
This type of delivery is quite common in many countries, especially in Europe. In some countries, the lack of this service when placing an order can be a factor in the abandonment of the shopping cart. PUDO is an innovative solution to the shipping problems that many businesses have. Due to its convenient pick-up locations and customized customer experience, using PUDO in your WooCommerce store may increase sales and enhance customer service. In addition to providing clients with a seamless return procedure, it also improves the brand image of businesses through cost savings, dependability, simplicity, and monitoring options.
Summary
As you have seen for yourself, shipping, in fact, can affect WooCommerce sales. In this article, I have tried to convey the essence of what is most important regarding the impact of shipping on sales in online businesses. Therefore, in this article, I have expressed the essence of what is most important when it comes to the impact of shipping on sales. The data and tips presented will be helpful, and their implementation will positively affect your business. Good luck!