Customers want the greatest and most convenient buying experience in today's digital world. The PUDO delivery service, which stands for Pick Up Drop Off, enables consumers to pick up or drop off their orders in a secure area close to them, is one approach to do this. In this blog post, we'll look at the advantages of adopting PUDO, why businesses should think about including it as a choice in their e-commerce site, and how it may elevate the consumer experience. We will finally look at how to begin integrating PUDO into your online business.
What is PUDO Delivery?
Customers who use the delivery and pick-up service PUDO can pick up their orders from predetermined locations. Customers who cannot or do not want to have packages delivered directly to their houses can take advantage of this service. A network of safe and practical access points, including convenience stores, newsstands, gas stations, and other retail establishments, has been built by PUDO. Clients may choose the best pickup location for them based on their requirements and feel secure knowing that their package will be safe until they get to the pickup point. Features like real-time tracking notifications and automated order confirmations upon pickup or drop-off improve the consumer experience.
There are several types of PUDO. These are self-service parcel lockers, authorized points of courier companies or stores that have an agreement with courier companies to transfer packages.
Deployment of PUDO Delivery Globally
Europe definitely dominates when it comes to popularity of PUDO in the world. There are more than 336,000 PUDO locations in Europe, of which 43,000 are Parcel Lockers, according to study (conducted in 27 countries surrounding Europe). In this region, Germany, France, the UK, Italy and Poland are leading in terms of PUDO points. Nonetheless, Finland, Slovakia, and the Czech Republic top the list for PUDO delivery point density (i.e., PUDO points per resident).

The U.S. is far behind Europe in terms of the number of pickup points, although its popularity is growing significantly.
PUDO nomenclature
You can find many names on the market for pick-up and drop-off services. In fact, each courier company uses its term for PUDO delivery:
DHL – Parcel Drop off / ServicePoint
UPS – Access Points
FedEx – Drop Box
DPD – Pickup points (or Ship to Shop service)
Evri – ParcelShops
However, all these services are quite similar and show that almost all courier companies see the potential of such a solution. It's time for you to see it too.
Why should you offer PUDO in your e-commerce store?
Using PUDO in your online business is a fantastic approach to elevate your consumers' shopping experience. Customers can pick up their goods from nearby places when this easy and secure delivery option is offered, which lowers the possibility of parcels being stolen or lost in transit. Customers can also obtain things while they are out and about and avoid the delays that come with conventional home deliveries. Additionally, providing PUDO as an option guarantees that consumers can easily trace their orders from dispatch through collection or drop off. As a result of your clients knowing that their package is secure throughout transit, you will gain their trust.
Convenience
Picking up a package at a time of their choosing is by far the most convenient solution for many e-commerce customers. Additional delivery alternatives give busy clients the option of picking up their packages while they're out and about. This leads to increased levels of client satisfaction and decreased failed deliveries.
Easy returns
A huge advantage of PUDO is also that it is easier to conduct returns of purchased goods. E-commerce customers have more and more rights, resulting in increased returns. Convenient returns are certainly an added benefit for users affecting the customer experience.
How can PUDO level up your customer experience?
It's an excellent method to improve your client experience. You may shorten delivery times and give a simple tracking system so that consumers can keep up with the status of their purchases by giving customers the option to pick up their products from local locations. As a result, your consumers will trust you more since they know their product will be secure until it reaches the store. Furthermore, providing this service enables more flexible scheduling possibilities, which may boost sales by luring in impulse buys or assisting busy shoppers to suit last-minute orders. Also, offering PUDO as an alternative lowers mailing costs, which could, if wanted, be passed along to the client in the form of discounts or promotions.
How to get started with PUDO in your WooCommerce store?
It's simple to get started using PUDO in your WooCommerce store. First of all, choose the kind of service you want to offer. Then, you need access to these services. Check the currently used couriers, and if you do not have such an option, then just contact them. Having enrolled, it's time to incorporate PUDO into the checkout process on your website. The simplest solution is to use a ready-made integration. On the market, you will find many plugins that allow you to display a map with pickup points on the checkout page for specific couriers.
At Octolize, we have two high-quality solutions for PUDO delivery in WooCommerce:
UPS WooCommerce Live Rates and Access Points PRO
This WooCommerce plugin allows you to give your clients access to the automatically computed shipping costs for a variety of UPS services and allow them select the Access Points of their choice. it can suggest automatically the nearest Access Points, or let your customers use the in-built search.
UPS WooCommerce Live Rates and Access Points PRO

$

69
Offer UPS Access Points support and live shipping rates in WooCommerce.
Add to cart
or
View Details
Octolize
Last Updated: 2023-12-04
Works with WooCommerce 8.0 - 8.4.x
DPD UK & DPD Local Pickup Points WooCommerce
This plugin makes it possible to include the DPD UK & DPD Local Pickup Locations for your customers at the checkout page. This way, they can easily choose from available pickup points near their address. Combined with DPD UK & DPD Local WooCommerce plugin, allows you to fully embrace DPD UK fulfillment in your WooCommerce store.
Last Updated: 2023-11-28
Works with WooCommerce 7.9 - 8.3.x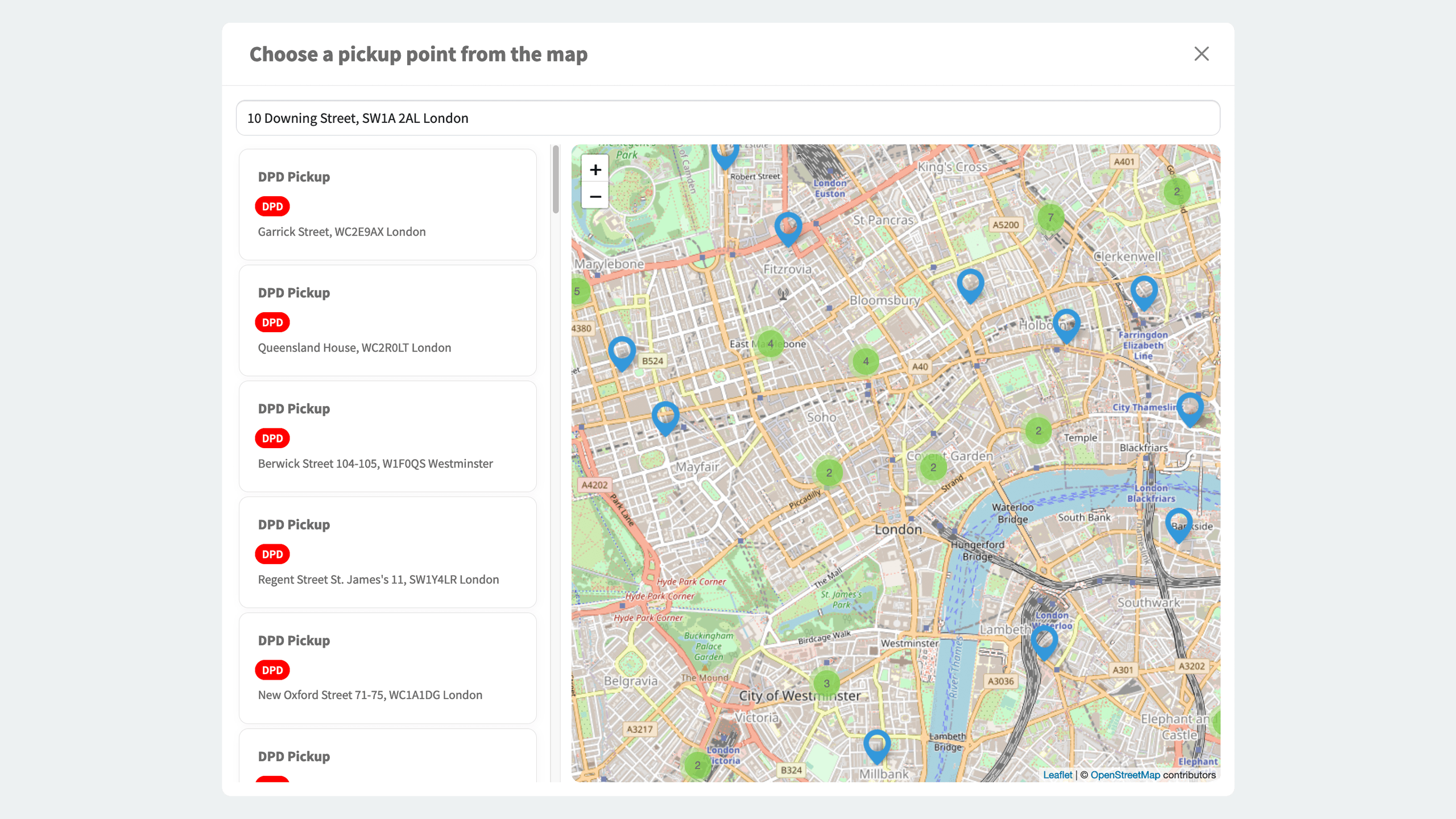 Summary
As you can find out, PUDO is a creative response to the shipping issues faced by many companies. Offering PUDO in your WooCommerce store could boost sales and improve customer service due to its handy pick-up locations and tailored customer experience. It not only gives clients a flawless return process but also helps strengthen the brand image of firms by way of cost savings, reliability, simplicity and tracking possibilities. By visiting their website or getting in touch with them directly, you can quickly get started with PUDO and learn more about how to integrate it into your WooCommerce store.