If you are using DHL Express to manage international shipping in your WooCommerce, you should consider using our free DHL Express for WooCommerce plugin. It will allow you to get live shipping rates directly from DHL Express' API, so you won't overpay for shipping.

DHL Express is not the most popular carrier company for personal shipping. But, you may not know it, it's one of the biggest international shipping companies in the world. It specializes in international shipping for business. DHL Express offers export and import services from over 220 countries and territories. If you are thinking about adding DHL Express shipping to your store or you already using it, you should think about the DHL Express integration plugin for WooCommerce.
Free WooCommerce DHL Express shipping plugin
DHL Express for WooCommerce is another carrier integration plugin from WP Desk. It mainly offers live shipping rates, similar to well-received, FedEx WooCommerce, and UPS WooCommerce plugins. It's easy to integrate, and the shipping cost is calculated automatically based on DHL Express' API connection. Your clients will get real shipping rates based on your settings and criteria. And it's offered in the free plugin!
DHL Express WooCommerce Live Rates
Serve your customers the automatically calculated DHL Express shipping live rates. Add the handling fees, insurance and more.
Download for free
or
Go to WordPress.org
Octolize
Last Updated: 2023-12-04
Works with WooCommerce 8.0 - 8.4.x
DHL Express shipping services
DHL Express for WooCommerce plugin allows you to add various custom shipping services delivered by DHL Express. You can use them all or enable only those that you want to use. The plugin allows you to change their names in your store or adjust their order of appearance. Remember that some services can be not visible for your customers depending on the package weight, origin, or destination.
Check out the complete list of DHL Express shipping services in the screenshot below.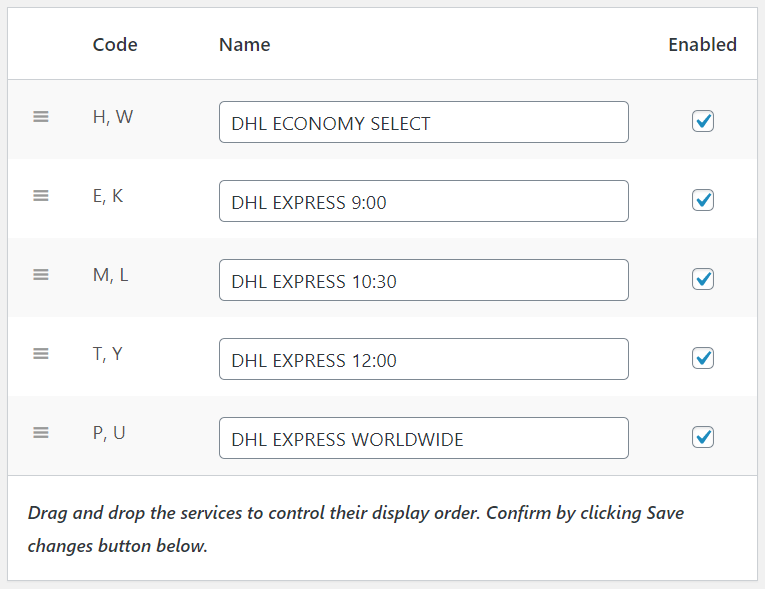 Live Rates Adjustments
DHL Express Shipping plugin also allows you to adjust live rates to your account's settings. The free version gives you two basic options. The first is Discounted Rates. That option requires entering the Payment Account Number to display discounted rates on the checkout page. The second is Insurance. You can request to include insurance in DHL Express rates with that option.
Advanced Options and the PRO version
DHL Express for WooCommerce has also more advanced options like basic parcel packing method setting or the ability to change measurement units. If you want to exceed free DHL Express plugin options, you can choose the PRO version of the plugin. It offers automatic box packing for multiple products, handling fees or discounts, estimated delivery date and much more. Check out all the PRO features in the plugin's page.
Summary
As you can see, DHL Express for WooCommerce is packed with useful features, especially for the free WooCommerce DHL Express shipping plugin. Complete WooCommerce DHL Express integration in your store and offer your clients live shipping rates directly from the carrier.