Displaying estimated delivery time for the shipping method is a great User Experience touch that can reduce shopping cart abandonment in your store. Your customers will know when exactly they will receive their package depending on the selected shipping method. In the DHL Express WooCommerce Live Rates PRO, you can display that information automatically based on the information from DHL Express API and your own settings.

DHL Express WooCommerce Live Rates PRO gives you control over DHL Express Live Rates. Most of all, it allows you to offer live shipping rates to your customers. You can also add commission, automatic box packing, and estimated delivery time. This plugin is a new, upgraded version of the free plugin available in the WordPress repository.
DHL Express WooCommerce Live Rates PRO

€

69
Serve your customers the automatically calculated DHL Express shipping live rates. Add the handling fees, insurance and more.
Add to cart
or
View Details
Octolize
Last Updated: 2023-09-06
Works with WooCommerce 7.7 - 8.1.x
To add estimated delivery time in WooCommerce you have to configure the plugin with your DHL Express account. If you don't know how to do it, check out our docs on how to create a DHL Express account and find access information.
Estimated delivery time in the DHL Express plugin
To add DHL Express estimated delivery time, go to WooCommerce→Settings→Shipping→DHL Express and move to Dates & Time section. In the Estimated Delivery field choose one of two available options. You can set Show estimated days to delivery date, which will display estimated delivery time in the number of days. Another option is to set the Show estimated delivery date to display estimated delivery as an expected date.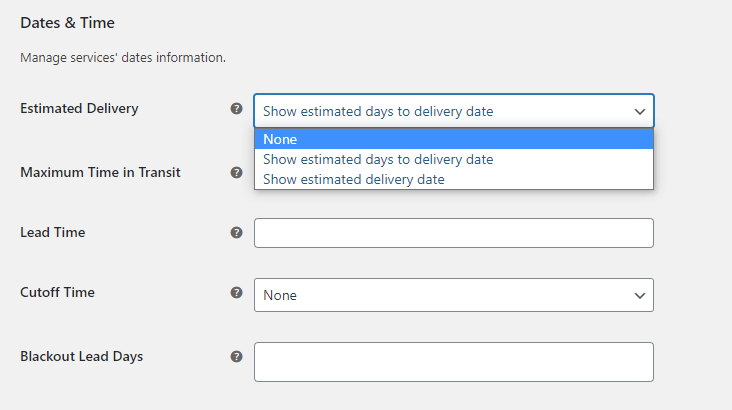 Adjust estimated delivery calculation
Information about delivery time is based on information from DHL Express API and vary depending on the delivery method. However, DHL Express WooCommerce Live Rates PRO allows you to adjust the estimated delivery time to the way your store works.
Here are the available adjustments: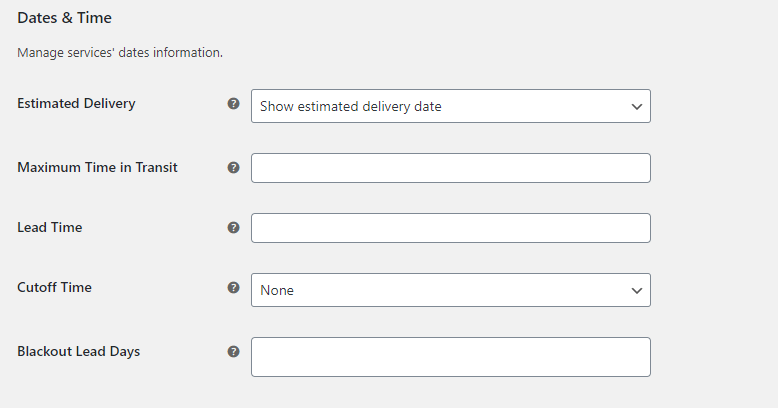 Lead Time allows you to set how many days are required to prepare an order for shipment. The delivery date or time will be calculated based on that information. This will make estimated delivery calculation much more accurate and adapted to the functioning of your shop.
Another great feature is Cutoff Time. It allows you to define at what time you stop preparing orders. So, after that time it will add one day to the estimated delivery. Please have in mind that it can be used only when Lead Time is set as 0.
Maximum Time in Transit won't directly affect the estimated delivery calculation but could limit the available services based on your delivery time requirements. With that option, you can set a maximum number of days that goods can be in transit. DHL Express WooCommerce Live Rates PRO plugin will show only those shipping services that will fit into that time. This feature will be especially useful for perishable goods.
Blackout Lead Days
If you are not shipping packages every day, you can exclude certain days of the week from the estimated delivery time or date. Choose the days of the week on which you do not send parcels in the multi-select box. All the selected days will be excluded from the delivery estimation.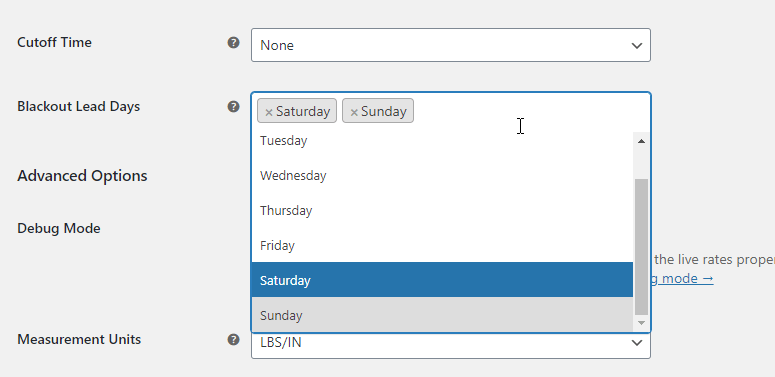 Summary
In this article, I showed you how to add DHL Express estimated delivery date in WooCommerce, and how to adjust it to your store needs. As you can see, it can be really simple. If you want to check this plugin before purchase, you can test it for free with our advanced Demo.