If you're a beginner store owner on WooCommerce, one of the most important decisions you'll need to make is selecting the correct shipping plugin for your online store. With various options available, it can be overwhelming to determine which plugin will best meet your needs. I'll walk you through the essential factors to consider when choosing a WooCommerce shipping plugin that suits your business requirements and makes it easier to find the right option for you.
Understanding the Importance of a WooCommerce Shipping Plugin
Let's first explore why selecting a WooCommerce shipping plugin is important for your business. Managing the shipping procedure, which includes figuring up shipping costs, creating labels, and monitoring shipments, falls to a shipping plugin. You'll save time and effort as it automates manual activities and optimizes your shipping operations.
However, exactly does a shipping plugin work? Now picture this: a customer who lives halfway across the world places an order with you. Without a shipping plugin, you need to manually determine the shipping costs based on the package's weight and dimensions, create a label, and follow the package's progress. This procedure can be prone to errors and time-consuming.
A WooCommerce shipping plugin (or usually several plugins) automates each process. The plugins work in unison with WooCommerce, extracting the required data from the purchase details and instantly figuring out the shipping costs. After that, it creates a label with all the required data, including the tracking number and the customer's address. A simple printing procedure and easy attachment of the label to the box guarantee a quick and easy shipping experience.
Types of WooCommerce Shipping Plugins
Before diving into the selection process, it's essential to familiarize yourself with the two main types of shipping plugins available for WooCommerce.
Table Rate Shipping Plugins
Table rate shipping plugins are designed to help you calculate the shipping costs associated with a customer's order. This calculation can be based on various parameters such as product weight, dimensions, shipping destination, and sometimes even the product type. One of the primary advantages of shipping cost calculator plugins is their versatility — they work irrespective of the carrier you choose. This can be particularly beneficial if your business uses several different shipping carriers or if you ship internationally. These plugins help maintain transparency in shipping fees, enhancing customer trust and satisfaction.
Plugins of this type allow you to create your shipping scenario based on various factors. This is a significant improvement over the Flat Rate Shipping available as default in WooCommerce. The most popular table rate shipping plugin in the WordPress repository is the Flexible Shipping plugin. It is a simple and easy-to-use plugin that is used by more than 100.000 WooCommerce shops worldwide. It is so easy that even people who don't know what table rate shipping is can easily use it.
Flexible Shipping WooCommerce
The best Table Rate Shipping for WooCommerce. Period. Create shipping rules based on weight, order totals or item count.
Download for free
or
Go to WordPress.org
Octolize
Last Updated: 2023-11-23
Works with WooCommerce 7.9 - 8.3.x
Live Rates Plugins
Live Rates plugins allow you to automate shipping cost calculations without having to create your own shipping scenario. They usually streamline shipping rate calculations through a three-step process: Firstly, they generate API requests incorporating the customer's cart details and store settings—like product weight, dimensions, shipping location, and additional fees. The request is sent to courier company servers for processing. Secondly, the courier's servers respond with a range of shipping methods and their respective live rates, calculated automatically. Finally, these rates are swiftly displayed on the WooCommerce store's cart or checkout page, providing customers with immediate and accurate shipping costs.
With Live Rates WooCommerce plugins, store owners receive precise, auto-calculated shipping rates, eliminating the need for manual shipping cost configurations and constant rate monitoring. This not only saves time when setting up and managing store shipping but also ensures customers are charged correctly, preventing any losses due to undercharging for shipping. In addition, these types of plugins are usually Carrier-Specific to seamlessly integrate with specific shipping carriers, including USPS, FedEx, UPS, or DHL.
Shipping Labels Plugins
Shipping labels plugins are a substantial aid to the order fulfillment process in a WooCommerce store. These plugins allow you to generate and print shipping labels directly from your dashboard, eliminating the need to enter shipping information manually and thereby reducing the chances of human error. Moreover, printed labels tend to be more legible, reducing the risk of misplaced or wrongly delivered orders. Some plugins also offer bulk printing features, making the process even more efficient for larger orders. An added benefit is the ability to customize labels with your branding elements, which amplifies your brand visibility. Thus, shipping labels plugins are an essential addition to your store, promoting efficiency and professionalism.
While Table Rate Plugins and Live Rates Plugins help you determine the shipping cost, a whole group of plugins help you create labels for complex orders and communicate with the appropriate courier companies. Such a group is Shipping Labels WooCommerce plugins, which are usually Carrier-Specific, but there are also plugins on the market that support multiple courier companies at once.
The Role of Shipping Plugins in WooCommerce
Shipping plugins play a vital role in enhancing the overall customer experience. They provide real-time shipping rates, enabling customers to choose the most convenient options at checkout. Consider yourself a buyer who wants to purchase something from an internet store. After adding the item to your cart and checking out, you discover that the delivery time needs to be shorter or that the shipping costs are excessive. Most likely, you'll give up on your cart and hunt for other options.
A shipping plugin can help in this situation. Customers may know the precise cost of delivery before making a purchase, thanks to the availability of real-time shipping rates. Customers will feel more confident in your brand because of this openness, knowing they aren't being overcharged for shipping. Furthermore, shipping plugins provide a range of delivery choices, including free shipping, carrier-specific options, and flat rates. Customers can select the solution that best fits their requirements and tastes because of this flexibility.
Additionally, shipping plugins offer connections with well-known shipping companies like UPS, FedEx, and USPS. You can easily link your WooCommerce store to these carriers with this integration, which will simplify the management of your shipping processes. This degree of automation lowers the possibility of shipping process problems and saves you time.
In the end, the purpose of WooCommerce shipping plugins is to make shipping easy and enjoyable for both you and your clients. These plugins optimize the shipping process, which boosts customer happiness and sales.
Key Features to Look for in a Shipping Plugin
When selecting a WooCommerce shipping plugin, it is important to consider the key features that align with your business needs.
Integration and Compatibility
When selecting a WooCommerce shipping plugin, it is crucial to prioritize compatibility. Make sure that any plugin you evaluate is fully compatible not only with your current version of WooCommerce but also with other vital extensions or themes that drive your online store. Additionally, it is wise to verify if the plugin seamlessly integrates with your preferred payment gateways and any other third-party services or systems that you heavily rely on for efficient order fulfillment. Considering these factors, you can ensure a smooth and hassle-free shipping experience for your customers.
Shipping Options and Flexibility
When considering the shipping options for your products, it is essential to evaluate whether the plugin offers the necessary flexibility to accommodate your specific needs. Consider whether you require flat rate shipping, free shipping, or real-time carrier-calculated rates. Additionally, consider whether the plugin can handle international shipping and provide custom shipping rules based on product weight, dimensions, or destination. By thoroughly evaluating these aspects, you can ensure that the plugin's features align perfectly with your unique shipping requirements, providing you with a seamless and efficient shipping experience.
User-Friendliness and Ease of Setup
As a beginner store owner, one of the key factors to consider is finding a shipping plugin that is not only intuitive and easy to set up but also offers a wide range of features to cater to your specific needs. Look for plugins that provide a user-friendly interface, clear and comprehensive documentation, and seamless integration with your WooCommerce dashboard. Additionally, some WooCommerce shipping plugins, like Flexible Shipping, have tutorials or even ready-made shipping scenarios that you can import into your store and set up even more advanced shipping scenarios in a few simple steps.
Customer Support and Updates
When it comes to technical issues, they can unexpectedly arise at any given moment. That's why it is crucial to carefully select a reliable shipping plugin that comes with dedicated customer support. It is worth checking if the plugin developer consistently provides regular updates, ensuring seamless compatibility with new versions of WooCommerce and necessary security patches. Having prompt and efficient support can truly make all the difference, especially when you encounter urgent problems or need guidance on utilizing specific features. Rest assured, with the right shipping plugin and reliable customer support, you can navigate any challenges that may come your way. If the plugin has a free version, you can check its ratings and the speed of replying to support threads. A high average of ratings and a large number of quickly resolved issues can show you how the plugin developer approaches its customers.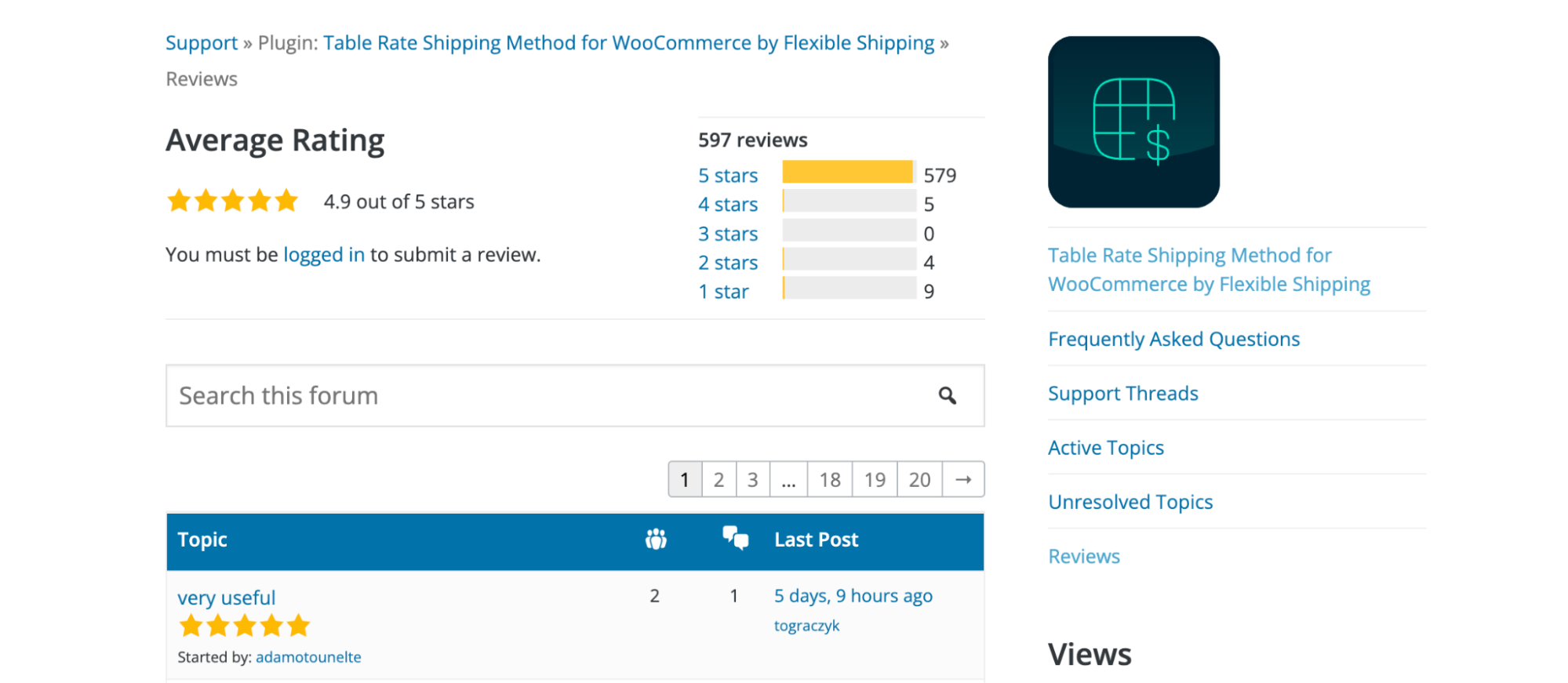 Another key element to check is the regularity of updates. If the plugin hasn't been updated since a long time ago, chances are it won't be safe for your WooCommerce store, or it will simply be difficult to get proper support for configuration issues. In the WordPress repository, you can easily check this in the Last updated field.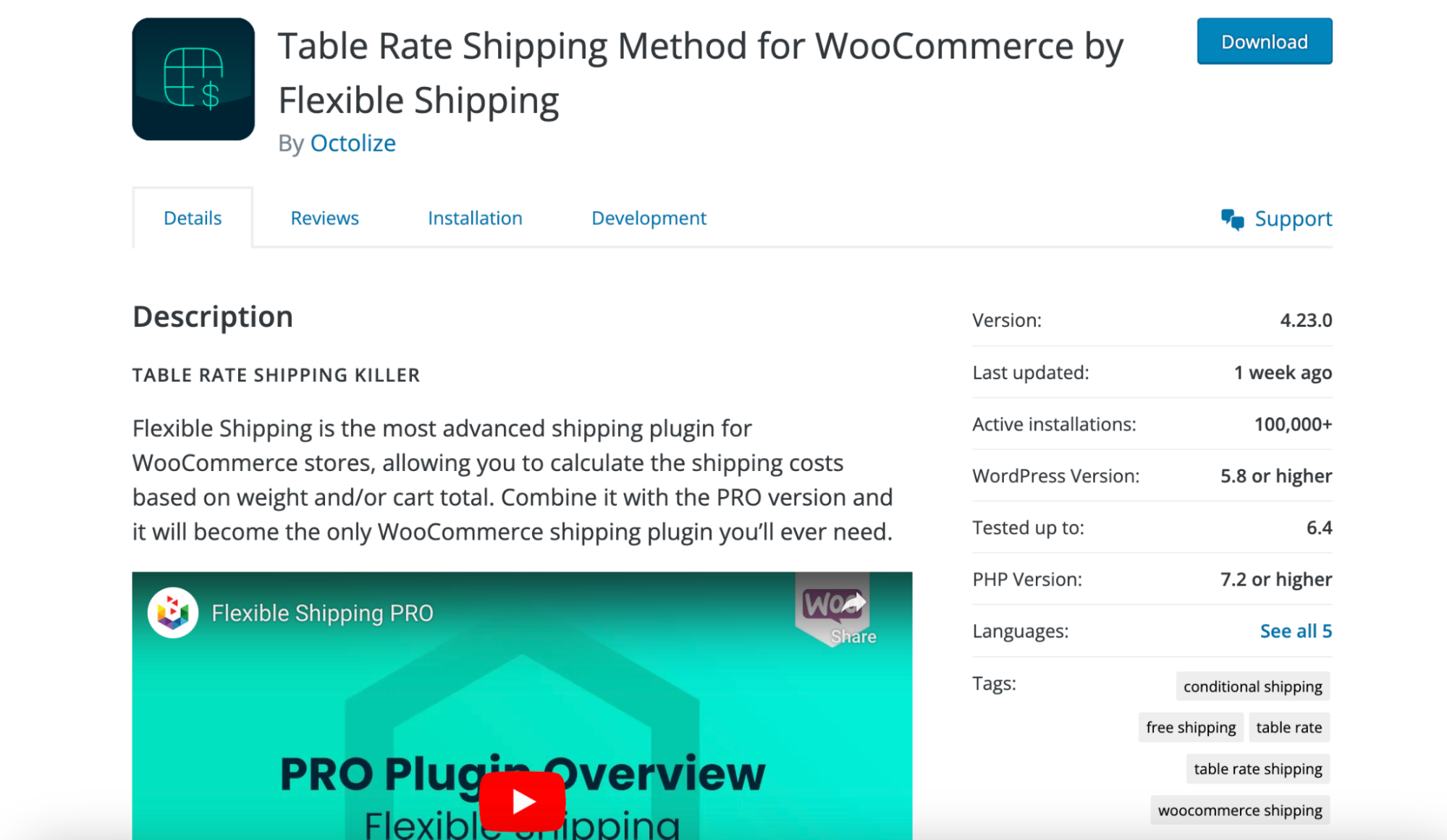 Pricing Structure
It's vital to evaluate pricing structures before deciding. Cost should never be the sole determining factor in choosing a shipping plugin. Some plugins offer free versions with limited features while providing premium plans for advanced functionality. Assess your budgetary constraints alongside the value provided by each plugin to find the best fit for your business.
For smaller WooCommerce stores with a simple shipping setup, the Free WooCommerce Shipping Plugins may prove to be fully sufficient. You can easily find them in the WordPress repository.
For more advanced shipping scenarios, paid versions will usually be necessary. Keep in mind that in most cases, shipping plugins for WooCommerce are sold in the form of annual subscriptions, which will allow you to receive support and updates for a limited time.
The most optimal solution for buying multiple plugins at a lower price is bundles, which plugin manufacturers offer on their sites. This way, you can get a set of shipping plugins for a fraction of their original price. An additional advantage of such a solution is the certainty that all plugins will be compatible with each other.
A great example of great value for a reasonable price is our All Plugins Bundle.
All Plugins Bundle

£

249
All the Flexible Shipping plugins within one package for a fraction of the price.
Add to cart
or
View Details
Octolize
Last Updated: 2023-12-09
Works with WooCommerce 5.9.0 - 6.2.x
Testing the Plugin Before the Purchase
If you have doubts about the usefulness of particular plugins or need to know if you will be able to configure them, it is worth using the free versions or testing them on the demos provided by the software developers. By doing this, you may evaluate the plugin's compatibility with your current WooCommerce setup and thoroughly test its operation. It is critical to closely monitor how the plugin functions in various settings and delivery scenarios throughout this rigorous testing period. Note the loading times, how simple it is to create shipping labels, and how accurate the shipping prices are in real-time. Additionally, this is a great chance to assess the level of customer service the plugin developer offers in-depth. Always remember that making an educated choice now could spare you from difficulties and unforeseen expenses later on.
Conclusion
There are several solutions available in the WooCommerce shipping plugin market, each with potential benefits and cons. Understanding your particular business demands, being upfront about your spending, and not being afraid to test out various plugins are essential to making the best decision. Although this procedure can take some time, the improved delivery procedures and increased customer satisfaction will speak for themselves. Recall that the appropriate shipping plugin has the potential to revolutionize your online store, so do your research before choosing one.