In this tutorial, I'll show you how to configure WooCommerce UPS shipping calculator. You will learn how to configure UPS shipping methods with real time shipping rates. The shipping cost in the cart will be the same amount that UPS charges you for shipping.
It's important for you as a store manager to charge customers a right amount for a shipping. You want to avoid charging too much because you want your store to be competitive. You also don't want to charge too little. It generates costs and your store must be profitable. The shipping cost for your customer should be the same as the UPS charges.
Why customers prefer an easy and accurate shipping experience?
Customers prefer an easy and accurate shipping experience because it helps them understand the cost of their purchase before checkout, allowing for better decision-making when shopping online. An intuitive lift to calculating shipping rate costs ensures customers receive reliable estimates in a timely manner, so they can make informed decisions about their order without any confusion or frustration. Having the ability to estimate exact delivery prices also gives customers peace of mind that there won't be any hidden fees or surprises at checkout. Accurate shipping rates create a more transparent eCommerce environment and encourage shoppers to complete their purchases knowing exactly what they're paying upfront.
Additionally, an effortless and accurate shipping experience enables customers to accurately compare different retailers and find the best deal available – considering both product price and total order cost with delivery charges included. This creates competition among retailers, which is beneficial for consumers who are looking for the best value for money when making purchases online. Ultimately, providing customers with an easy and accurate shipping experience gives them confidence in knowing that their orders will arrive on time at a fair price point – resulting in increased conversions from satisfied buyers.
How the UPS shipping calculator can improve your customers' experience
The UPS Shipping Calculator is an essential tool for creating a seamless and positive customer experience when it comes to online shopping. This calculator allows to display delivery charges automatically, saving you time and hassle with shipping cost calculation. The UPS Shipping Calculator can also help you to provide competitive shipping rates that incentivize customers to complete their orders. This can help increase conversions significantly, leading to more satisfied customers who will likely return in the future for repeat business. It also provides customers with the assurance that they are receiving accurate shipping prices so there won't be any surprises at checkout – giving them peace of mind with each purchase. Ultimately, implementing the UPS Shipping Calculator into your Woo Commerce store will give you an edge over other retailers while creating an enjoyable customer experience that encourages buyers to come back again and again.
WooCommerce UPS shipping calculator in action
The shipping cost changes every time a customer makes changes in the cart. The rates are calculated automatically online in real-time. The shipping cost is based on cart contents and customer's address.
Look at the cart totals: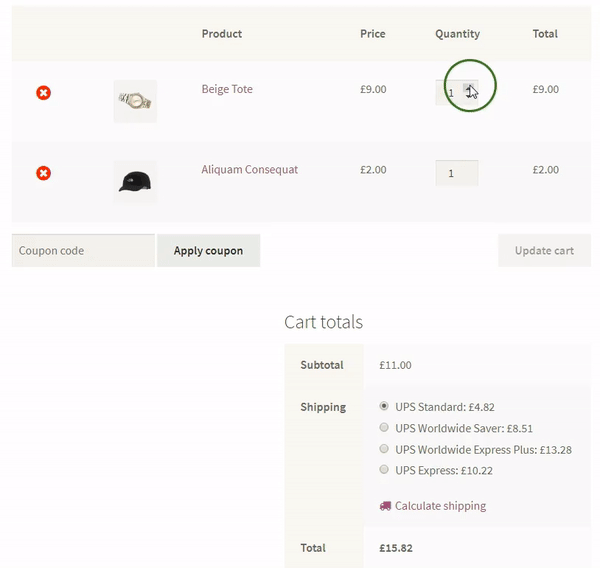 WooCommerce UPS Shipping plugin
Nice, isn't it? You need a plugin for that 🙂 It's called UPS WooCommerce Live Rates and Access Points and you can download it now for free. Download it and install it in your store if you want to go next in this tutorial.
Last Updated: 2023-12-04
Works with WooCommerce 8.0 - 8.4.x
As you can see on the plugin page linked above, this free UPS WooCommerce shipping plugin lets you offer a full range of UPS shipping options. Integrating the plugin takes only 5 minutes. Your clients will see every UPS shipping option in the checkout of your store with its real time shipping rates. The shipping cost is calculated automatically from the UPS API, based on shipping address, store's origin and weight and dimensions of the products on the cart. It offers UPS Access points support. It's a great tool to calculate delivery cost for domestic and international shipping, as good as for freight shipping.
WooCommerce UPS configuration
Once you install the plugin, you need to configure it.
Settings
This is easy. Simply provide your UPS account credentials and you're ready to go next.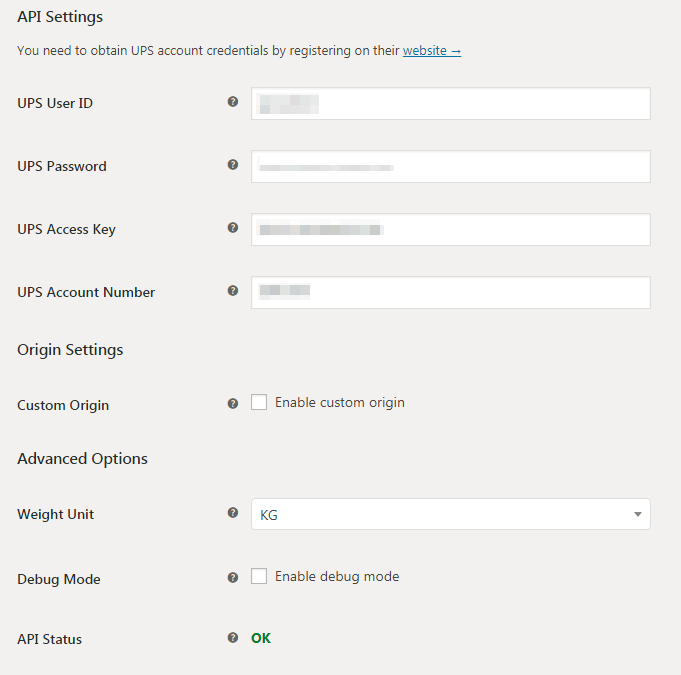 The shipping plugin allows you to set custom origin country, change weight unit. You can also enable the Debug mode to check the UPS shipping rates calculation with debug messages displayed in the checkout page (visible only for Admin of the WooCommerce store).
UPS shipping method
As a next step, go to plugin's settings page: WooCommerce → Settings → Shipping → Shipping zones and select the shipping zone to which you want to add UPS shipping method.

On the next screen, click the Add shipping method button and select UPS.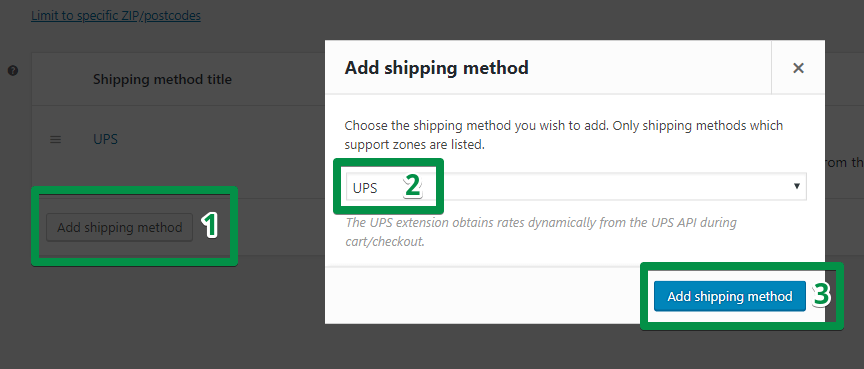 And… you have your UPS shipping method! Once you configure the plugin and add the shipping method, the WooCommerce UPS shipping calculator works automatically in your store's cart. But it's not over. You can adjust it to your needs.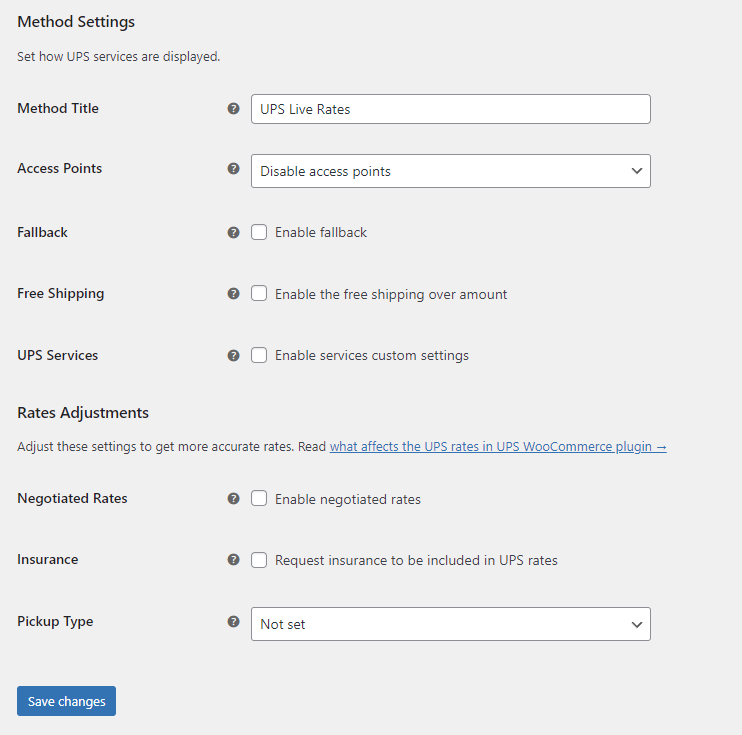 In the Access Points field, choose whether you want to offer UPS Access Points. In the free version of the UPS Live Rates shipping plugin, your clients will get the list of the nearest UPS Access Points to their location.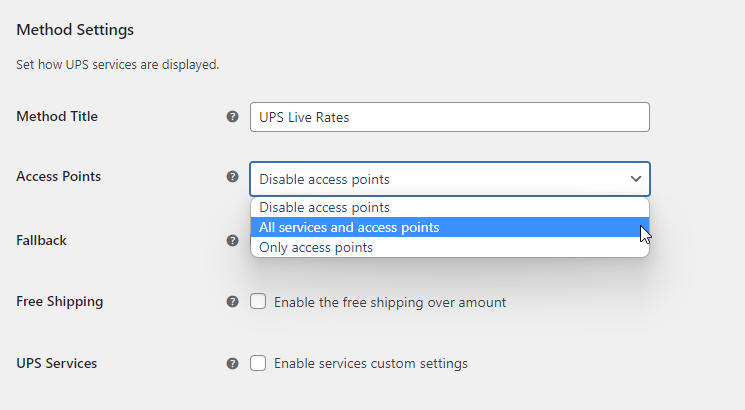 You can also set a fallback rate that will be displayed if there are no UPS services available. Once the checkbox was ticked, the following Fallback Cost field will appear below: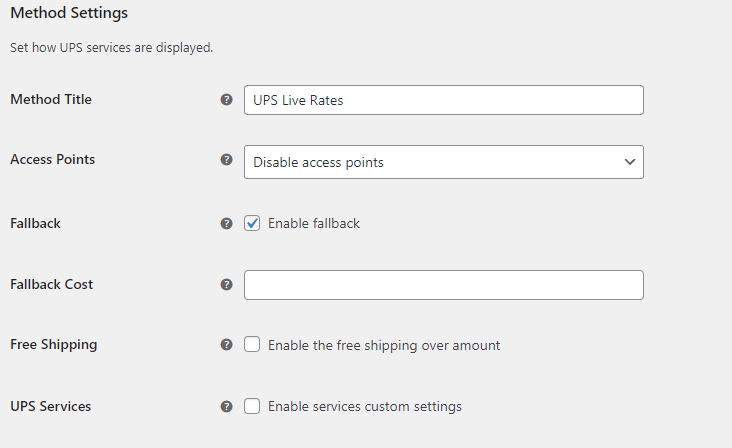 A very useful feature that can increase your sales is the free shipping threshold. Just click on Enable the free shipping over amount checkbox, and enter the free shipping threshold. It will offer the free shipping to the all UPS shipping services when the cart's value will reach your threshold.
What's more, you can decide UPS services that you want to offer to your customers in that shipping method. As you can see, you can pick from the variety of UPS rates with UPS Ground or Next day air saver. If you would like to offer all the shipping services, just unpick that checkbox.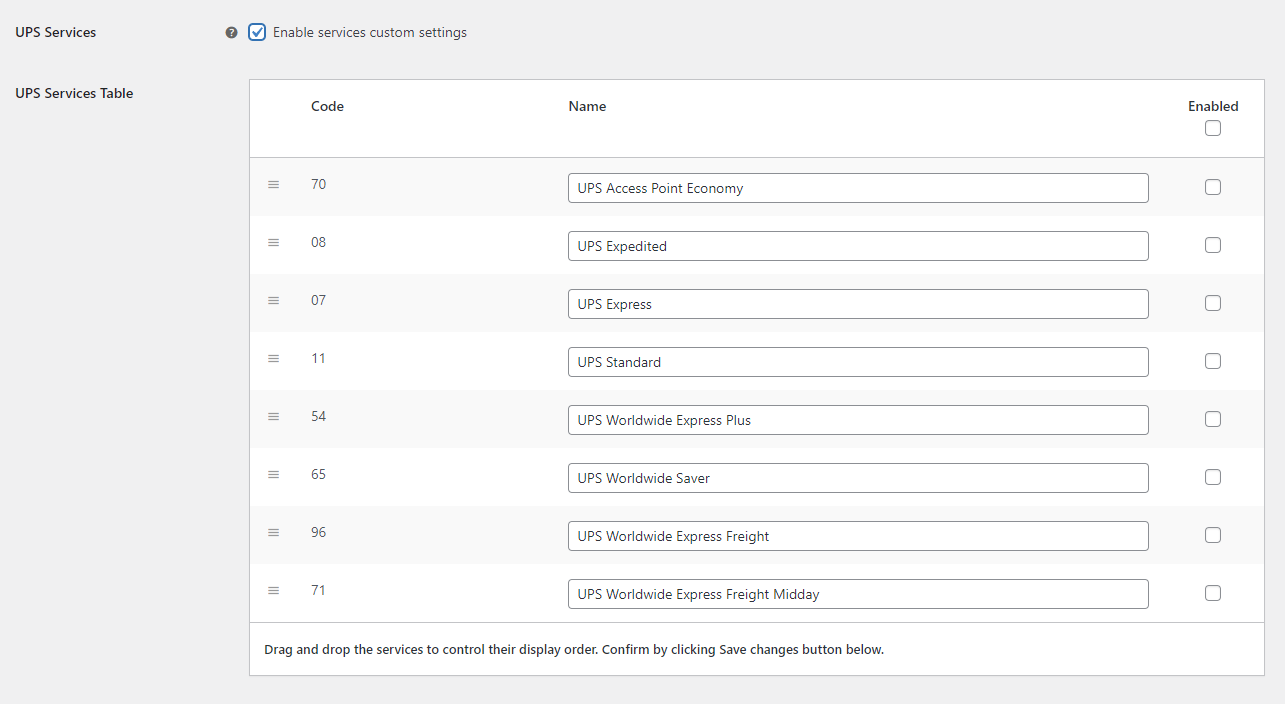 Lastly, the shipping plugin offers rates adjustments with negotiated rates and insurance.
In the same way, you can add other shipping methods in different shipping zone.
Advanced UPS shipping calculator
If you want to get more accurate rates, you can use the PRO version of the plugin that offers multiple packing methods with custom boxes, handling fee or flat rate for UPS Access point. To complete the shipping fulfillment, you can use UPS Labels and Tracking WooCommerce shipping plugin to print UPS shipping labels for the placed orders and track the parcels directly from your WooCommerce shop. You can buy all the shipping plugins cheaper with one Complete UPS Integration Bundle.
Complete UPS Integration Bundle

£

99
Connect WooCommerce with your UPS account, offer real-time shipping rates and create printable shipping labels for each order.
Add to cart
or
View Details
Octolize
Last Updated: 2023-12-06
Works with WooCommerce 5.9.0 - 6.2.x
Are your ready to use UPS shipping in your WooCommerce store?
In this short article, you have learned how to configure WooCommerce UPS shipping calculator. I hope it helped you. If you have any questions, let us know in the comments section below!
We also created The Ultimate Guide to WooCommerce Shipping. You should definitely check it out if you are a beginner!