There are a few table rate shipping plugins on the market. What is the best WooCommerce Table Rate Shipping Alternative? I'll show you in this article. Read on!
WooCommerce Table Rate Shipping Alternative
Why table rate shipping? When you sell products of different sizes and weights then flat rate is just not enough. We understand the problem and that's why we created our flagship plugin Flexible Shipping.
You can create virtually any shipping scenario you want.
Why should you choose our plugin? Just look what people say about it: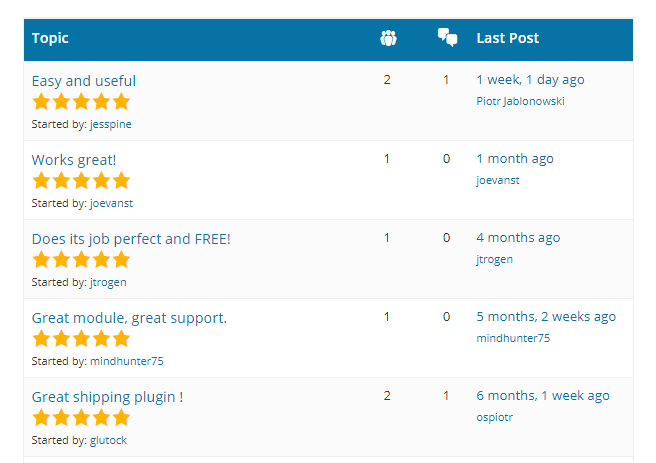 Over 100,000 stores use Flexible Shipping worldwide on a daily basis.
Join them! 🙂
Simple WooCommerce shipping configuration
Flexible Shipping not only does its job, but it is also easy to configure. Best WooCommerce Table Rate Shipping alternative must be simple, right?
Flexible Shipping – features
Why do people think that Flexible Shipping is a great WooCommerce Table Rate Shipping alternative? That's because of all the features this plugin includes!
First things first. The plugin lets you create unlimited shipping methods and cost rules. It has WPML and Polylang support for multilingual sites. We update Flexible Shipping regularly so it is up-to-date with WooCommerce from 3.0 to the newest one, including the 3.4.x branch.
For your convenience, we let you both import and export table rate shipping rules to a CSV file. However, the export is available only in the PRO version.
Basic Features
Add titles and descriptions to your shipping methods
Shipping cost based on cart total and/or weight
Minimum and maximum values for cart total and/or weight
Summing cost rules if they are matched – option to add costs based on cart total and weight at the same time
Free shipping override above entered cart total
Show selected shipping methods only for logged in users
Advanced Features (PRO)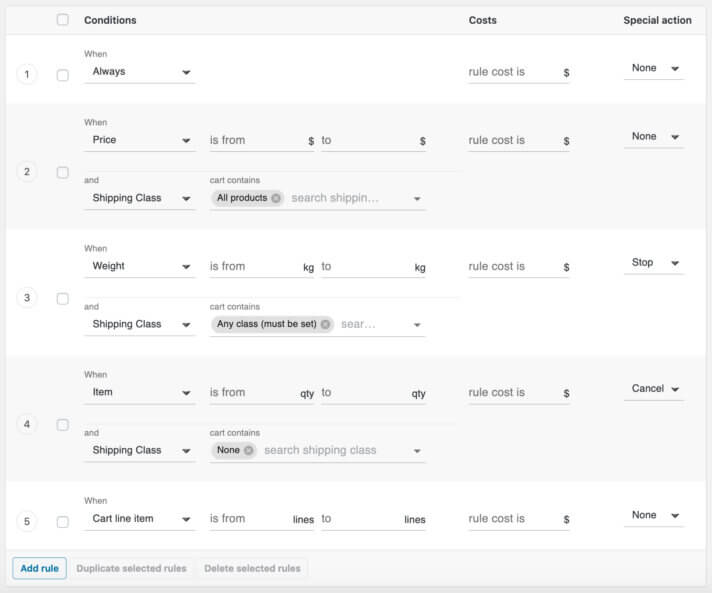 The PRO version gives you many more features! Here's the list:
Shipping classes support
Shipping costs based on: product item count and/or cart line item count
Additional costs for a price, a weight, an item, a cart line item
Stopping a rule (if the rule is matched the following rules are not calculated)
Canceling a rule (if the rule is matched it is removed from available shipping methods at the checkout)
Additional calculation methods (sum, lowest cost, highest cost)
Maximum shipping cost per shipping method
Coupons support for free shipping
Flexible Shipping Locations add-on
We created an add-on that works both with the free and the PRO version of Flexible Shipping. It is called Flexible Shipping Locations and lets you add predefined locations to the table rate shipping rules inside a method.
Let's say you are a business based in the United Kingdom. You need slightly different costs for England, Scotland, Wales and Northern Ireland. How would you make it with the 'United Kingdom' shipping zone? Just create a location (or sub-zone) for these 4 countries and you are good to go.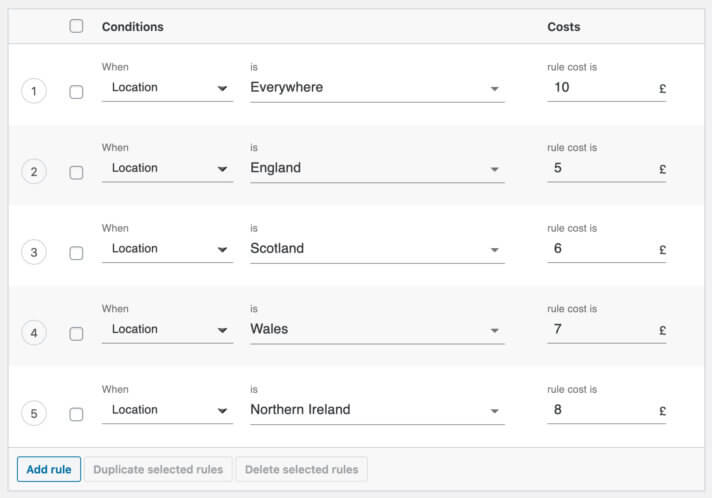 In this very basic example we charge £10 for shipping to all locations but add extra charges if the client is located in England (£5), Scotland (£6), Wales (£7) or Northern Ireland (£8). This setup is basic only because it is an example 🙂 You could do much more with Flexible Shipping!
In another example, you may want to charge your customers different amount for the postcodes of their shipping address. If you used the core WooCommerce shipping, you would have to create a shipping zone for every postcode. Here you can just define your locations and use it in one shipping method. Isn't it much easier?!
Integrations
That's not everything we have to offer. We are a Poland-based company. The Polish version of Flexible Shipping integrates a lot of courier companies. People love it so we decided to start developing plugin integrations for the global version of Flexible Shipping.
DPD UK & DPD Local
This plugin works only in the UK. It is a premium plugin and lets you integrate with DPD and DPD Local.
UPS WooCommerce
The second one lets you integrate your WooCommerce store with the UPS. You can sell your products worldwide, the UPS API offers global shipments.
You don't need Flexible Shipping for this integration, because WooCommerce UPS has dynamic real time rates calculation built-in. Maybe you wouldn't need WooCommerce Table Rate Shipping alternative at all? You should definitely check it out!
Is that WooCommerce Table Rate Shipping alternative what you need?
In this article, I showed you a great WooCommerce Table Rate Shipping alternative. You can download it for free.

Try it out before you buy if you need advanced features. If the basic ones fit your needs than use the free version instead! Compare Flexible Shipping versions →
PS. Don't forget to read our Ultimate Guide to WooCommerce Shipping →