Automatic DPD shipment tracking for WooCommerce store managers and customers is a crucial feature of every store. That's why we made sure to make it as easy as possible for both parties. In this tutorial, we will explain everything about DPD UK & DPD Local WooCommerce parcel tracking for our WooCommerce DPD UK & DPD Local plugin.
Shipment tracking is an indispensable eCommerce service that allows shop owners and their customers to observe the progress of a shipment, from the moment it's first placed to when it arrives at their doorstep. It's a very good solution that positively affects the user experience of any store. Moreover, the vast majority of users expect information about their order, including the status of their shipment.
Why you should provide order tracking?
Customer expectations
Most customers don't just expect cheap (or preferably free) delivery. They want to know when they will get the shipment and what is happening with it in real-time. Giving them this opportunity will yield them the peace and sense of control that is very important. What's more, customers view the ability to see package movements in real-time as the norm. We are reaching a situation where the absence of this element negatively affects the evaluation of the shopping experience and the store as a whole.
Save money
Providing shipment tracking information to your customers can also save you a lot of money. Dealing with customer complaints or inquiries is very time-consuming. Restricting some of these will ease the burden on your store staff or support department. Such a simple action as adding a tracing link to a purchase email can significantly reduce inquiries and your costs.
Order tracking can not only help you save money, but also increase the turnover of your store. A good purchase experience builds customer loyalty. Customer loyalty translates into a greater chance of the customer returning to your store, as well as recommending it to friends.
DPD UK & DPD Local shipment tracking
The method of tracking shipments is identical for both DPD UK and DPD Local. For both, this service is called Track it. To track parcels, you'll need to obtain your DPD reference or tracking number. To track parcel manually, you can go directly to the services: DPD UK or DPD Local.

How to enable a WooCommerce DPD UK Shipment Tracking in your store?
All you need is the right WooCommerce DPD UK & DPD Local shipping plugin. It's the easiest and fastest solution.
DPD UK & DPD Local WooCommerce plugin
This WooCommerce shipping plugin allows you to create the shipments, generate the printable DPD UK shipping labels for the placed orders and track the parcels directly from your WooCommerce shop. Basically, this is one complete solution for DPD UK & DPD Local fulfillment in your WooCommerce store.
DPD UK & DPD Local WooCommerce

€

79
Ship your DPD orders faster. Collect shipping details, download printable shipping labels, track parcels - everything is automated.
Add to cart
or
View Details
Octolize
Last Updated: 2023-11-07
Works with WooCommerce 7.9 - 8.3.x
DPD Parcel Tracking for customers
First, go to plugin settings: WooCommerce > Settings > Shipping > DPD UK.

Then activate tracking numbers in customer emails in the WooCommerce DPD settings and save changes.

When you create a shipment and change the order status, WooCommerce will send an email notification to the customer, and he will see his tracking number below the order details table.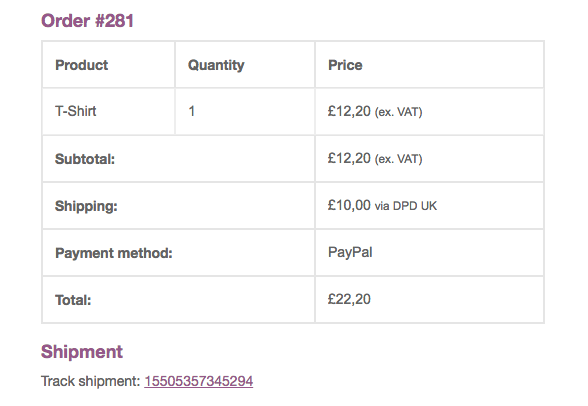 In this way, he will be able to check the status of his DPD shipment very easily.
DPD Parcel Tracking for store managers
If you are a store manager, you can track your DPD shipments from 2 places.
WooCommerce Orders List
WooCommerce DPD plugin is integrated with Flexible Shipping, and it takes all the benefits of the automatic shipping management.
When you create DPD shipment and visit WooCommerce orders page, you will see a globe icon in the shipping column. Click it, and you will be instantly redirected to DPD website with all information about this parcel.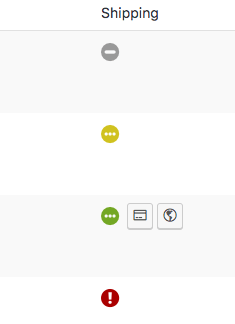 WooCommerce Order Edit Screen
After creating shipment directly in the order edit screen, you will see a parcel reference number. Clicking it will take you directly to the DPD tracking page for this parcel.