Dive into a comprehensive guide about WooCommerce shipping in the UK. Learn about the UK shipment market, choose the delivery provider based on data, and set up WooCommerce shipping for the UK with premium WooCommerce shipping plugins.
UK Parcel Shipping industry
Parcel shipping is a vital part of the UK's economy, as it allows businesses and individuals to easily and quickly send and receive packages and other items. In recent years, the parcel shipping industry in the UK has experienced significant growth, driven by the increasing popularity of online shopping and the rise of e-commerce.
Lately, the UK parcel shipping industry has faced several challenges, including increased competition, rising fuel costs, and the impact of the COVID-19 pandemic. In response, many companies have embraced new technologies and innovative solutions to improve their operations and meet the changing needs of their customers. For example, many companies have invested in automation and robotics to improve the efficiency of their sorting and delivery processes, and some have introduced new delivery options such as lockers and self-service kiosks.
One of the major trends in the UK parcel shipping industry is the growth of e-commerce, which has led to an increase in the volume of packages being shipped. To meet the demand for fast and convenient delivery, many companies have introduced new services such as same-day or next-day delivery. They have also invested in new technologies such as drones and autonomous vehicles to improve the speed and efficiency of their operations. With a mix of public and private sector players, and a focus on innovation and efficiency, the UK is well positioned to continue to thrive in the global parcel shipping market.
UK shipment market
UK is one of the biggest parcel market in the world. Based on the data from Pitney Bowes, in the UK, 15 million parcels were generated each day. The parcel industry is booming with parcel volume grew 9 percent, year-over-year, reaching 5.4 billion parcels.
If you are into numbers, you might find it interesting that in the UK, 171 parcels were generated every second, or 15 million each day. Parcel volume grew 9 percent, year-over-year, reaching 5.4 billion – up from 5 billion in 2020. Parcels generated per person rose to 80, an increase from 74 in 2020. Parcels per household reached 192.
One of the key players in the UK parcel shipping industry is Royal Mail, which is the country's national postal service. Royal Mail operates a network of sorting offices and delivery points across the country, and it is responsible for delivering millions of packages each day. In addition to Royal Mail, there are also a number of private courier companies that operate in the UK, such as DHL, TNT, and UPS. These companies offer a range of services, including same-day delivery and international shipping, and they often partner with e-commerce platforms to provide delivery solutions for online retailers.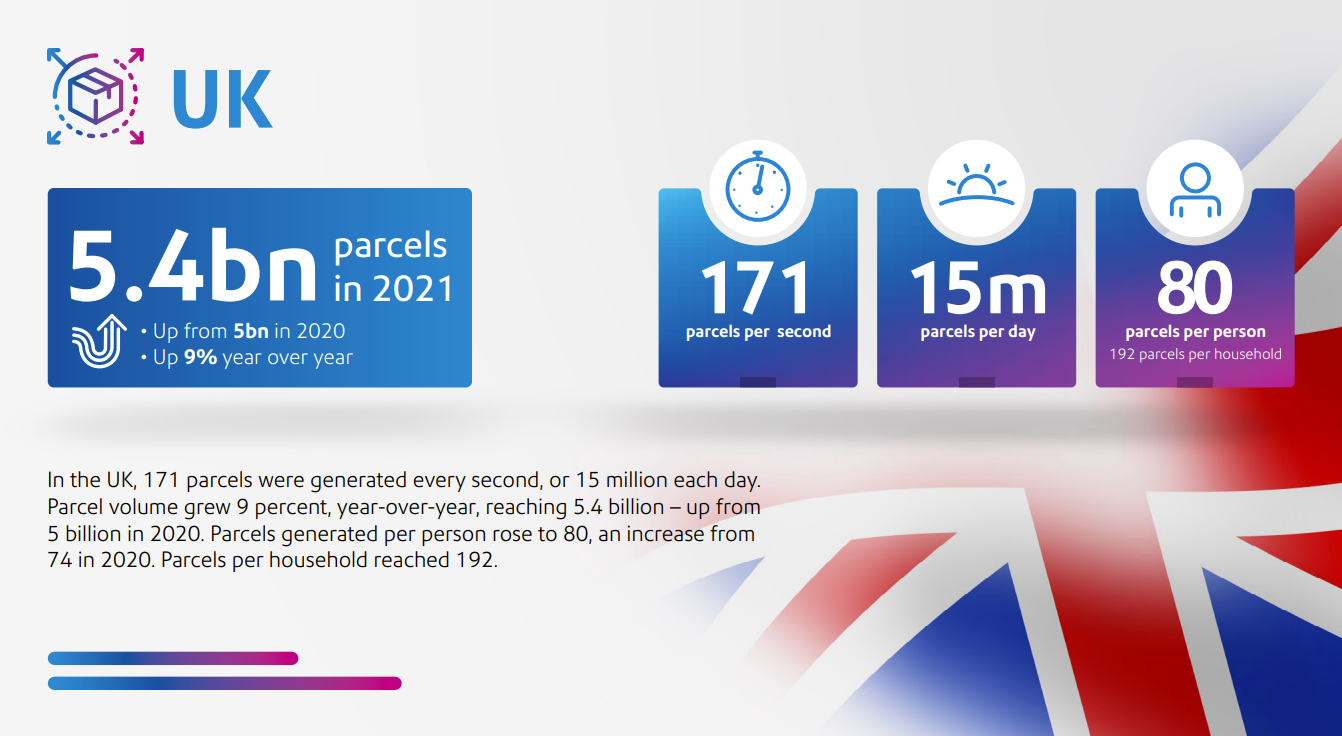 Which carrier to choose for WooCommerce shipping in the UK?
When determining which shipping carrier to use for WooCommerce in the UK, there are a number of factors to consider. Cost should be assessed as a starting point – while low prices may seem appealing, they may also come with hidden fees and potential delays. Additionally, you should factor in services offered by each carrier, such as delivery tracking and parcel insurance options. Furthermore, research customer service levels prior to signing up with any of them. Finally, understand the restrictions around items that can be shipped; some have limits on dimensions or particular types of items such as liquids or flammable goods. With all this in mind, an informed decision can be made about selecting the most appropriate carrier for your business.
Most popular courier companies in the United Kingdom
The courier industry in the United Kingdom is highly competitive, with a variety of companies offering different kinds of services. The most popular companies for parcel delivery in the UK include DPD, Royal Mail, Hermes, and UPS. All four offer a range of regular courier services, which enable customers to pick up and deliver parcels quickly and securely within the UK. DPD has one of the largest fleets in Europe and is renowned for providing often same-day delivery, whilst Royal Mail provides a reliable service at competitive prices. Hermes has an extensive network across the country, allowing easy access to all parts of Britain. Each of these companies provide robust operation models suitable for businesses looking to move documents or shipments between locations within the UK conveniently and accurately.
UK parcel market share, by volume, based on the data from Pitney Bowes:
Royal Mail 30%
Amazon Logistics 17%
Hermes (now Evri) 13%
DHL 8%
UPS 6%
DPD 6%
Yodel 6%
Now that you know which courier companies are the most popular in the UK, it's worth checking which are the most well-liked by customers. This knowledge will allow you to make the right choice, which can ensure a lower rate of abandoned shopping carts.
Best parcel delivery providers in the UK
With the answer to the question of the best and worst delivery companies, comes the Which?. It conducted an extensive survey in which respondents chose the best courier firms in the UK.
The results are as follows: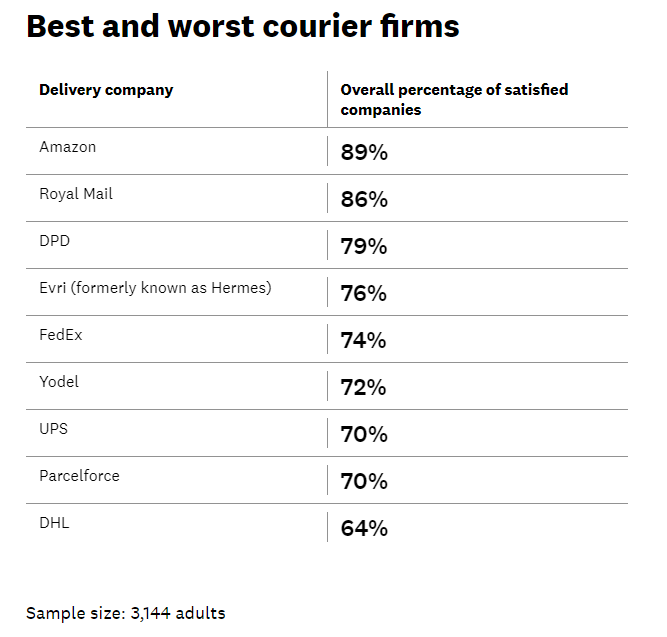 It is clear that the market is being conquered by Amazon. DPD UK and Royal Mail also enjoy a very high esteem.
What UK shipping services to offer to get more sales?
When it comes to offering shipping services, having a wide selection of options is important in order to attract more sales. There are a few shipping services that you can offer to your customers in the UK:
Free shipping. Offering free shipping can be a great way to entice customers to make a purchase.
Next-day delivery. This can be a good option for customers who need their order quickly and are willing to pay a premium for faster delivery.
Same-day delivery. This can be a good option for customers who need their order delivered on the same day.
Click and collect or pickup and drop off (PUDO). This service allows customers to place an order online and pick it up from a physical location, such as a store or a collection point like DPD UK Pickup Points.
International shipping. If you sell products that can be shipped internationally, this can open up a whole new market for your business.
Return and exchange services. Offering a hassle-free return and exchange process can help to build customer trust and increase the likelihood of repeat purchases.
It's worth considering which of these services will be most relevant and attractive to your target audience.
UK Shipping WooCommerce plugins
It's time to confront the previously provided knowledge with actual UK shipping solutions for WooCommerce. At Octolize, we have a wide range of products that are sure to be useful for any WooCommerce store operating in the UK.
DPD UK
If you want to offer DPD services in your WooCommerce store, the best solution is to use the Advanced DPD UK integration bundle. This is a package that includes all the plugins needed to handle orders and shipping from DPD in the UK. It allows you to integrate your WooCommerce store with your DPD UK account, customize the UK locations and automate the whole order processing including generating and printing the shipping labels. In addition, DPD UK & DPD Local Pickup Points WooCommerce allows you to show your customers the nearest pickup points offered by DPD.
Advanced DPD UK Integration Bundle
Integrate your WooCommerce to your DPD UK account, customize it for UK locations, and automate the whole process by creating and printing labels.
Add to cart
or
View Details
Octolize
Last Updated: 2023-03-25
Works with WooCommerce 5.9.0 - 6.2.x
UPS
If you want to offer DPD services in your WooCommerce store, the best solution is to use the UPS integration bundle. It allows you to connect your WooCommerce store with your UPS account, offer your customers real-time shipping rates and generate printable shipping labels for each placed order.
Complete UPS Integration Bundle
Connect WooCommerce with your UPS account, offer real-time shipping rates and create printable shipping labels for each order.
Add to cart
or
View Details
Octolize
Last Updated: 2023-03-25
Works with WooCommerce 5.9.0 - 6.2.x
Royal Mail
You can also use the free Royal Mail Live Rates plugin. Show your clients the Royal Mail shipping services with their prices being dynamically calculated in the cart and checkout. The shipping cost for each Royal Mail service is calculated real-time based on the products' weight, shop location and delivery destination.
How to set up WooCommerce shipping for the UK?
The biggest challenge in setting up WooCommerce shipping in the UK is determining the shipping costs for each region. The proper UK shipping zones configuration might turn out to be quite challenging. Shipping the products to Highlands or the Channel Islands is most typically much pricier than to UK mainland. To make it even more tangled, the availability of the UK carriers' services usually varies depending on the delivery's destination.
If you want to know how to configure UK shipping zones in your WooCommerce shop the right way, read our detailed guide with all the postcodes.