Weight based shipping is one of the most popular shipping settings in WooCommerce. However, for some shipping services, it is necessary to use volumetric weight, which is a bit more advanced and complicated. But, with the right plugin, you can use volumetric weight based shipping in WooCommerce.

In this article, I'll explain what is volumetric weight, how to calculate it, and how to set volumetric weight based shipping in WooCommerce. I hope that it will be useful for you.
What is volumetric weight?
Courier companies usually price packages based on the dimensions and weight of the packages. But the cost of a shipment can be also affected by the amount of space that the package occupies. After all, the number of packages that can fit on a truck or a plane depends as much on the size of the box as its weight. This is especially the case for lightweight packages that have large dimensions. That's why some courier companies use volumetric weight rather than the actual weight. It allows carriers to charge for space and weight.
Volumetric weight is also known as dimensional weight or DIM weight.
How to calculate volumetric weight?
To calculate volumetric weight you'll need package dimensions and DIM factor (volumetric divisor), which is individual for each courier. The calculation formula for determining the dimensional weight looks like this:
(Lenght x Width x Height) / DIM Factor = Dimensional weight
It's calculated for each piece in the shipment and then summed up.
DIM factor varies according to the selected courier and measurement units. They are updated quite frequently for each service, so it is best to check with the couriers directly.
Volumetric weight based shipping in WooCommerce
Now, when you know what is volumetric weight and how to calculate it, let's use it in your WooCommerce store. To set volumetric weight based shipping in WooCommerce, you'll need the Flexible Shipping PRO plugin. It offers powerful, but easy-to-use shipping calculations based on weight, totals, product count and much more. One of its many features is of course volumetric weight based shipping.
Flexible Shipping PRO WooCommerce

€

89
The best Table Rate Shipping for WooCommerce. Period. Create shipping rules based on weight, order totals or item count.
Add to cart
or
View Details
Octolize
Last Updated: 2023-10-04
Works with WooCommerce 7.8 - 8.2.x
In order to use this functionality, it is necessary to provide all dimensions for products in the store and to enter the DIM factor for that shipping method.
To set shipping cost based on the volumetric weight in WooCommerce you'll need to add and configure the shipping method with the Flexible Shipping plugin. In your shipping method, add a new rule based on the Dimensional weight: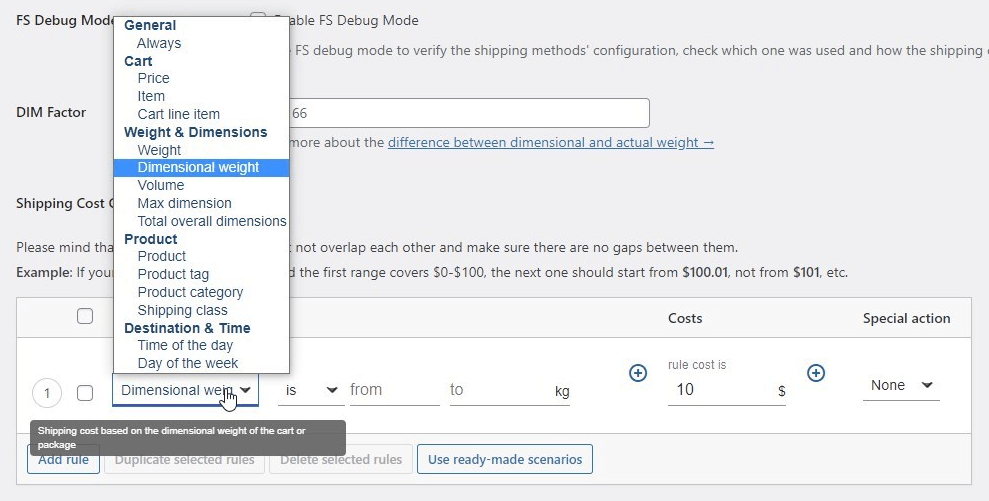 Then, select the volumetric weight range and set the rule cost. You can set multiple shipping rules with different ranges based on your courier's pricing. Using Dimensional weight condition, the shipping fee is based upon the dimensional weight or the actual weight, whichever is greater.​​​

After you set the rules, enter the proper DIM factor for that shipping method: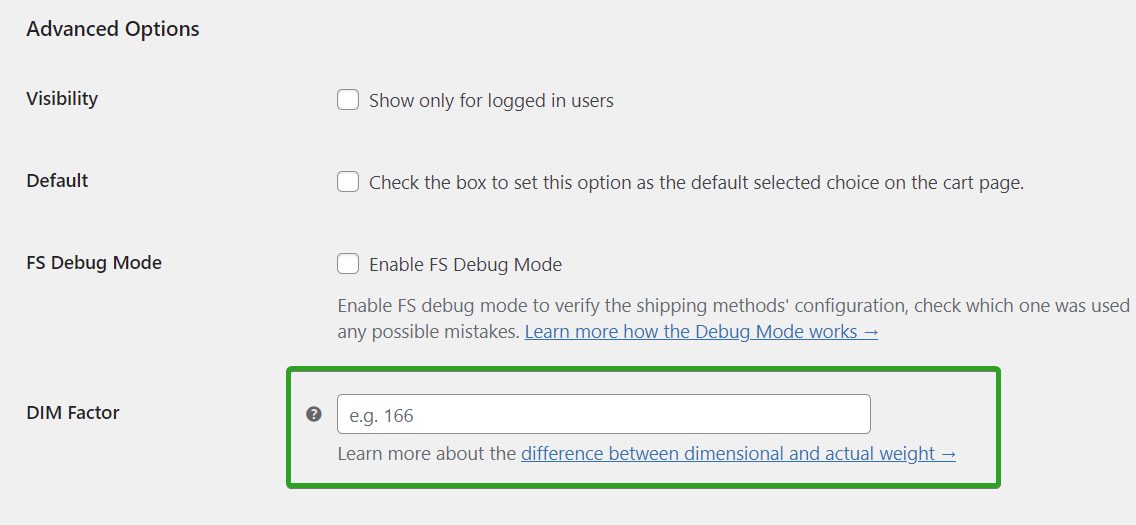 Please have in mind that it varies according to the measurement units that you have set in your WooCommerce settings. It's very important to check it with your courier. You can set DIM factor for each shipping method, so you can customize it for individual courier services. When you have it all configured, Save changes.
Live rates plugins as an alternative
If you don't want to set specific rates based on dimensions manually, you can use plugins that offer live rates. They will automatically calculate the shipping cost based on your shipping address and the products in your cart.
You will find Live Rates plugins for the most popular courier companies like UPS or FedEx.