With Octolize Pick-up Points PRO app, you can enhance your Shopify store customer experience. Offer a wide selection of delivery locations because it's becoming the preferred way for customers to pick up their orders.
Embracing the trend of convenient order pickups has become the favored shipping method among customers, reflecting their desire for flexibility and cost-effectiveness. Whether referred to as Access Points, Drop-offs, Pick-up Points, Parcel Lockers, or PUDO, these options offer unparalleled convenience compared to home deliveries while saving online stores valuable resources. With the Octolize Pick-up Points PRO app, you have the incredible opportunity to elevate your store's customer experience by seamlessly offering a diverse range of carrier pick-up points. The best part? There's no hassle of signing individual contracts or creating your accounts for each shipping provider. It's all about enhancing convenience and delighting your customers every step of the way.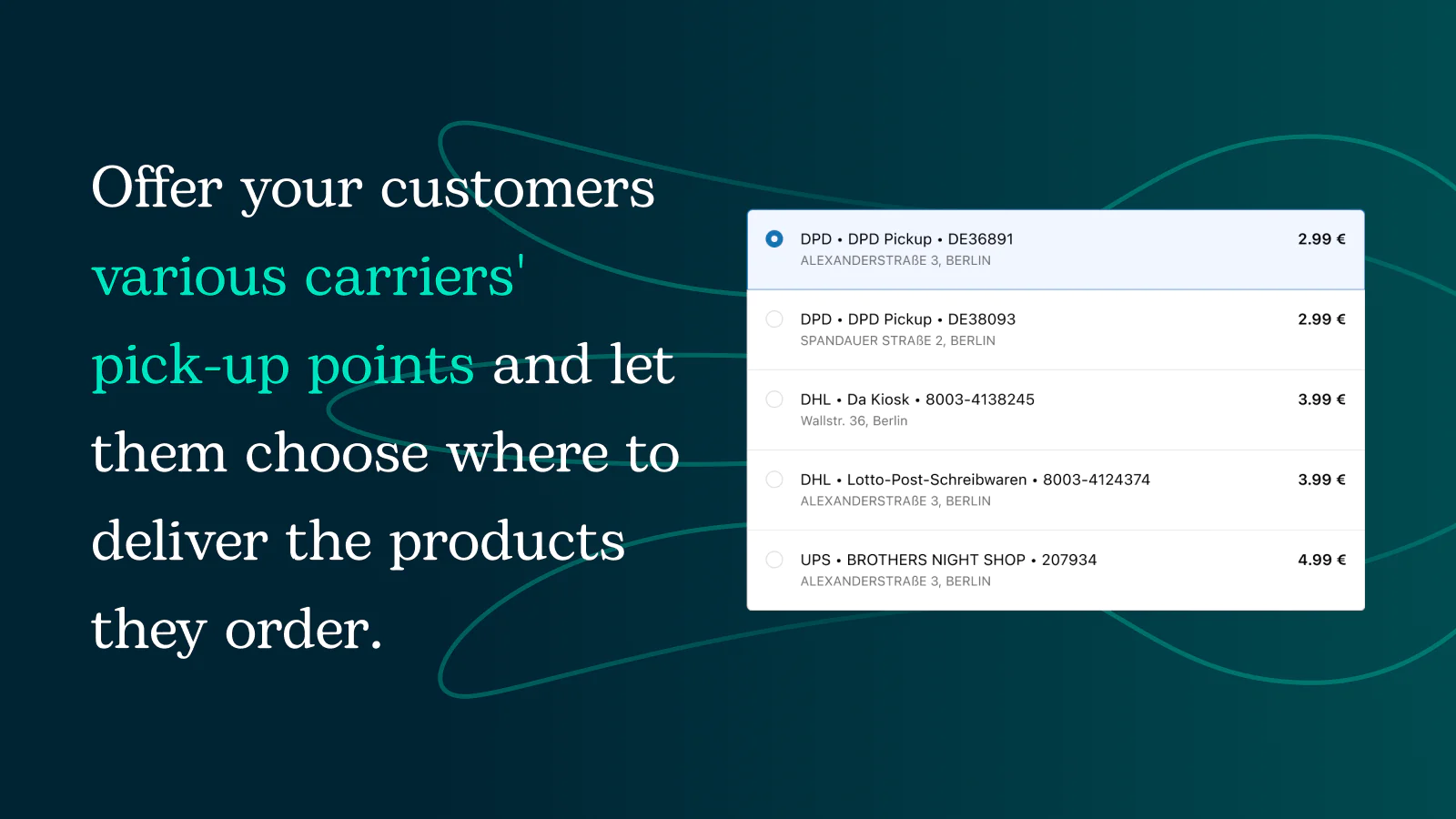 Redefine delivery convenience with Octolize Pick-up Points PRO
The Octolize Pick-up Points PRO app streamlines the entire customer pickup process. With just a few clicks, your customers can choose the most convenient pickup location for their orders. By offering multiple pickup points, such as local stores or partner locations from many providers, you redefine convenience and enhance the overall shopping experience, making it easier for customers to get their hands on their purchases quickly.
Keep your customers in the loop and deliver faster
Nothing delights customers more than being informed about their order status in real-time. With our Shopify app, you can effortlessly send order updates and pickup notifications to your customers. They'll receive timely alerts about when their order is ready for collection. Moreover, carriers have established logistics routes between their warehouses and final pick-up points. Therefore, many packages are delivered faster than a courier arriving at a home address. This efficiency reduces any potential anxieties and ensures a smooth and satisfying customer journey.
How does Octolize Pick-up Points PRO app work?
Our Shopify app offers a practical solution to provide multiple delivery providers for your customers. Thanks to the Carrier Service API, our app can instantly find pick-up points near the provided customer's address. You as the store owner can select relevant providers and countries for which the delivery should be offered. Additionally, you can set weight limits, shipping costs, and a free shipping threshold for each provider. Last but not least, the pick-up point ID is saved in each order details, and can be then passed to 3rd party shipping integrations, e.g. BaseLinker, etc.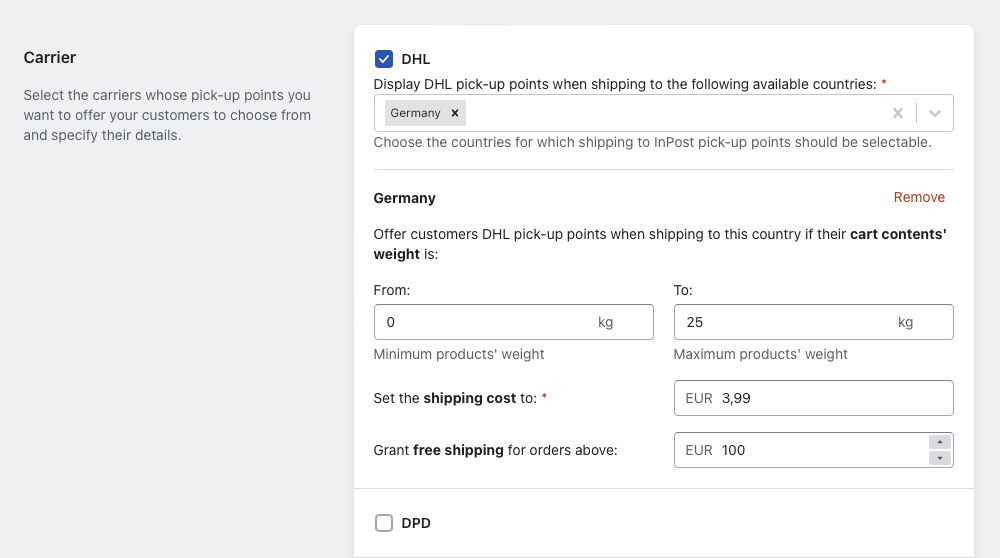 Global network of reliable shipping carriers – use the most relevant for your customers
We currently offer tens of thousands of pick-up points from the following renewed operators:
UPS
DHL
DPD
InPost
Orlen Paczka
Poczta Polska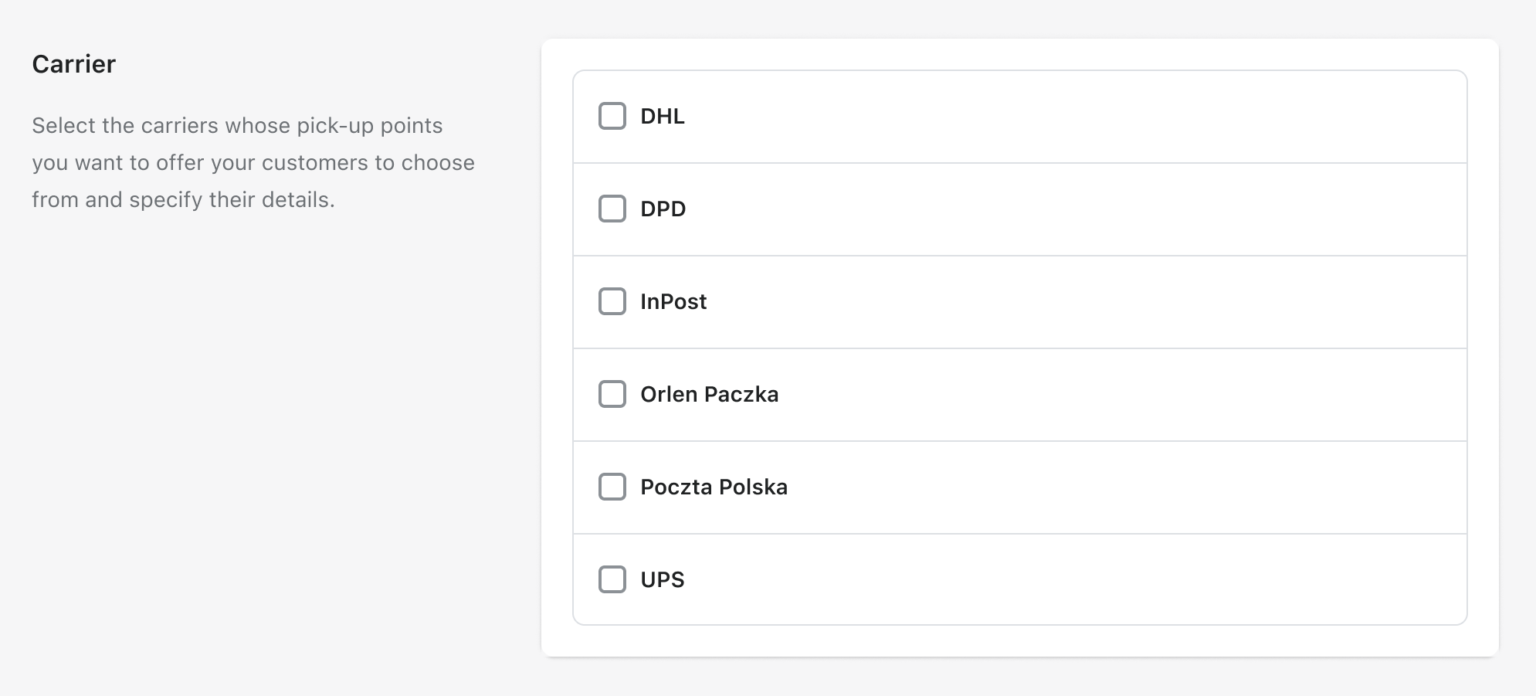 We're expanding our network of carriers but if you have any particular company in mind – please write down in a comment below.
Delivery flexibility is a competitive edge
In the highly competitive e-commerce landscape, providing an exceptional customer experience sets you apart from the competition. By incorporating the Octolize Pick-up Points PRO app into your Shopify store, you're taking a significant step towards gaining a competitive edge. When customers can easily pick up their orders at their preferred locations, they're more likely to choose your store over others and share their positive experiences, ultimately boosting your brand's reputation and attracting new customers.
Effortless Integration with your Shopify store and theme
Setting up the app in your Shopify store is incredibly easy. The app smoothly integrates with your existing theme, ensuring a uniform and polished look throughout your website. There's no requirement for complex coding or design adjustments. Just customize the settings to your preferences, and the app takes care of the rest. Even if you decide to change themes or add new design elements, the app remains fully functional and reliable.
Summary of Octolize Pick-up Points PRO the Shopify App
The Octolize Pick-up Points PRO is a game-changer for store owners on Shopify who seek to improve their customer pickup experience. With seamless integration, a wide range of collection points, custom delivery prices, and global coverage, this app has everything you need to take your store to new heights. Embrace the power of convenience and top-tier service. Integrate the Octolize Pick-up Points PRO into your Shopify store and witness the growth of your business!